The Gaiam Print Yoga Mat is a great mat for all kinds of practices. With a textured non-slip surface, this PVC mat offers chemical- and toxin-free usability. Its cushioning, after all, supports balance to power poses for day and night-long use. Not everyone wants to spend an exorbitant amount for a yoga mat, and if you're one of those people, this is the best yoga mat for you. You should know that airing out this mat is just as important. Which makes the lightweight and durability of the mat even more special. Your hands and feet won't ever slip or feel unbalanced ever again, all thanks to this light-tack and 6P free pick.
The Manduka PRO Yoga Mat has the best high-density cushioning system which not only maintains your posture, but cushions your joints. The closed-cell surface offers incredible sweat resistance for an emission-free and non-toxic material strength. This pick may be a step ahead of the game in terms of price, but it's surely worth the investment. It is one of the few upgraded picks for both yoga and pilates practice. And the non-slippery surface gets by without a fuss regardless of how much you sweat. We liked this pick for people willing to take their practice to the next step. While this pick has many uses, it offers grip and balance without breaking a sweat!
On a more affordable side, considering the YogaAccessories Non-Slip Deluxe Exercise Mat is essential. It is a simple, no-fuss yoga mat for all your adventures. Made of a tear-resistant and non-slip material, it is free of harmful toxins, latex, and any other heavy metals. What makes this pick one of the best yoga mats on the market is its thickness and size of the design. It's much more dense and long than picks under the same price. And it vows to offer stability and a decent amount of stickiness for any pose. And where other brands compromise in terms of quality- our YogaAccessories comes compromise-free for good.
A Little Background
Everyone wants the best yoga mat for a positive and empowering session. Still, not so long ago, yoga mats were often found in a single build and design. They were referred to as sticky mats for the traditional practice of hatha yoga. Before the invention of breathable and toxic-free materials for non-skid and non-slip mats, people practiced yoga on grass, tiger skin, or the rug of a deer. Unusual as it may be, but the origin of this practice in ancient India deprived people of a proper rug to practice on.
However, with yoga's introduction in Western culture, the use and manufacturing of mats transformed immensely. People opted for thick towels, rugs, or carpets to exercise on. The first kind of yoga mats ever introduced were made of rubber. This solved one of the most common problems of practicing on wooden floors or cotton rugs. And that is slipping as well as sweating.
Following this milestone, many brands opted for more eco-friendly materials to offer non-slip, non-skid, and cushioning abilities. Commercial yoga mats, prevalent today, are made up of PVC, rubber, natural jute, and other microfibre alternatives. So a yoga mat is the most integral part of any yoga gear, where you're a yoga instructor, a yoga student, or an enthusiast.
Finding The Right Yoga Mat Material
Contrary to popular belief, not all yoga mats offer the same cushioning and body support. More importantly, not all yoga mats have the same texture and smell after use. Some are more durable than the rest, while some more environmental-conscious. Here are the various benefits and disadvantages of different materials.
TPE
TPE stands for thermoplastic elastomers. It can also be labelled as thermoplastic rubbers, which is part of a group containing polymers. Polymers, on the other hand, is a mixture of plastic and rubber which means TPE offers both elastomeric and thermoplastic properties. In simple words, a material with both such properties is stiff and flexible. This means you can roll or fold the material without compromising on its durability.
TPE is a closed-cell material which means they're waterproof, easy to clean, and denser than other materials. Studies suggest that such closed-cell materials offer more resilience and are hygienic by nature. This also makes them anti-microbial and anti-bacterial for long-term use. The best part about using TPE is that after discarding the thermoplastic and elastomeric properties do not harm the environment. So they're easier to recycle and reuse when needed.
This is an important aspect for many buyers since a yoga mat isn't a long-lasting investment. You need to replace your pick more often to reap it benefits without letting it affect your health. Even though TPE has impressive anti-microbial properties, it is only the best choice for a short period of time until you replace it with a new TPE pick again.
Modern TPE picks offer biodegradable features, while resisting the growth of bacteria even after discarding. This makes them of the best earth-conscious choice for a soft and lightweight mat.
On the other hand, the drawbacks to using TPE is that they're manufactured using only chemical processes and heat. Plus, they're synthetic, which makes them more affordable than other materials. Using a TPE under a yoga made of a softer material is the best way to increase density and cushioning. Cleaning them with an organic spray or cleaner is essential, on a consistent routine, as TPE starts to emit an unusual smell after use. This is because TPE mats are closed-cell by nature and they do not absorb sweat but rather make the surface sticker. If the sweat is not wiped clean after use, it leaves an unusual smell behind.
PVC
Unlike TPE, PVC is an open-cell foam material. It has both anti-tearing and sweat-resistant properties. This makes it one of the best yoga mats for gripping. When you buy a high-density yoga mat, there's a higher level of cushioning, resistance to sweat or moisture, and non-slip properties. They're definitely the smarter choice for anyone looking for both functionality and comfort, while lasting for a good period of time.
PVC is manufactured with PVC resin powder. Its manufacturing process offers better resilience to outdoor climates, heat, and for vigorous practices. And since they retain sweat, they can be used for longer in non-heated rooms too.
For environmental-friendliness, PVC has some earth-conscious properties. But it contains one element which, in excess, may affect both health and the earth. The substance is called phthalates. Aside from this face, during the manufacturing of this material, no toxins or hazardous chemicals are released into the air. Some high-quality PVC mats offer lifetime durability, so discarding them often is not an option.
However, PVC are not durable to begin with. When a yoga mat is sweat resistant what it means is that they retain sweat to a greater degree, unlike TPE. As a result, they're best for gripping, but bad for bacterial formation. And they're harder to clean as the retained sweat leaves behind an unpleasant odor. So regular cleaning and maintenance of a PVC yoga mat is necessary.
NBR
NBR stands for nitrile butadiene rubber which is a combination of acrylonitrile and butadiene through a unique polymerization process. As a result, NBR is processed under low-heat offer better heat resistance, oil resistance, and elasticity. You can top for NBR for improving your posture and practice. It offers better surface thickness and is easy to clean. NBR is best when placed under a jute or cotton yoga mat for extra protection against injuries.
The stickiness, thickness, and squishy quality of an NBR mat make it a manmade synthetic find. Making them one of the most affordable picks on the market.
EVA
EVA stands for ethylene-vinyl acetate. This material falls into the category of a synthetic material. It's lightweight and durable to use. Some high-quality EVA mats come with impressive moisture and sweat-resistant properties, which makes the surface easier to clean after use. You can also buy thinner versions of this material for practicing basic stretches.
Thick EVA mats offer a more grippy and sturdy surface for vigorous sessions. However, they contain a group of chemicals and odors that you may find unpleasant. EVA foams are very popular around the world. Because of its soft and pliable properties, they are best used for a short period of time for basic stretches only.
Jute
Jute is naturally-derived which makes it one of the most earth-conscious picks on the market. Jute is both biodegradable and recyclable to use. Plus, it's incredibly eco-friendly which makes it safe to use. Jute is scientifically proven to clean the air as it takes in carbon dioxide. If you're looking for a smarter and cleaner choice for a yoga mat, go for this one.
You will find 2-in-1 surfaces made up of jute and eco-friendly PVC. The jute fibre keeps the open-cell structure in its right place while making it the best non-toxic yoga mat to have for most people. Even during manufacturing, it uses no chemical or toxins or heat processes, which means it's safe for workers during and after.
The only negative aspect of this material is that it isn't skin-friendly in terms of texture. It can be a bit scratchy. If you use it with a softer and pliable material, it may not feel uncomfortable.
Natural Rubber
Natural rubber is a renewable source, making it the best eco-friendly and comfortable yoga mat for use. This material in unlike all others including PVC or synthetic rubber. A natural rubber surface is everything a yogi wants. From comfort to grip ability to cushioning. It even does so much to prevent joint injuries. For someone who's allergic to harmful chemicals, a natural rubber surface would work. It has expert hypoallergenic properties, making it incredibly comfortable on the body.
However, if you're allergic to latex, do not use a rubber surface as that could cause a minor allergic reaction.
How We Picked
You need to look for 3 things in the best yoga mat. What are those 3 things?
Durability
Stickiness
Texture
Durability
Durability in a yoga mat is important because the thickness and material of the surface has a lot to do with its long-lasting quality. If the surface is too thin or extremely stretchy, it can hurt your knees. However, if the surface is too thick, it makes it harder for you to hold a pose for a long time due to sweating and moisture trap.
Consider how well-made and dense the surface is. Since the material dictates the thickness, pressure, and durability of a product, look for something that wears out after a long period of time.
Stickiness
Sufficient amount of stickiness in a yoga mat prevents accidental slipping and injuries. Stickiness dictates how stable and balanced you are on the surface to hold a pose or maintain your final alignment. It also helps you transition from one move or pose to another without losing your balance. One of the best qualities of any surface is the ability to hold down a pose for more than a few seconds.
This is why considering the stickiness of the surface is essential. Our suggestion would be to opt for a PVC material when you need help focusing on a single pose for several seconds. These mats are sticky as much as clean to help you practice efficiently. Plus, you can easily wash down PVC mats with an organic cleaner to avoid slipping or skidding.
Texture
Texture defines traction which affects how well you hold down a pose on the surface. This, like stickiness, also influences the slipping and sliding abilities of the surface. For example, while practicing the downward dog, both your palms and feet need to press firmly on the surface to maintain stability. Any kind of slipping will disrupt your alignment- resulting in an undesirable posture.
For such intense sessions, you need the proper texture that meets all your comfort needs. You will find all kinds of textures- from soft and pliable to rough- based on your sessions.
Our suggestion would be to opt for a natural jute surface if you want to completely eliminate slipping. If your palms get sweaty, a jute or cotton or rubber surface keep prevent slipping without the stickiness.
On the other hand, if you value smoothness as much as grip, opt for a PVC pick. A PVC surface will offer the best stickiness possible and is also the more eco-friendly choice than other picks such as EVA, NBR, or TPE.
Our Best Pick
Sale
The Gaiam Print Yoga Mat offers the perfect length for practicing with the required density and cushioning support. The printed design makes the mat look more attractive. While the textured non-slip surface supports your movements while offering the best traction. If you've been practicing yoga on a carpet, it's not thick enough to support your joints. However, transitioning to this best yoga mat will allow you better mobility and flexibility. This pick is easier to clean and maintain for the long run. And while it helps improve posture, it's considered to be one of the best eco-friendly choices for yogis. So why wouldn't you buy this 6P free mat with its lightweight and durable properties.
Flaws but not dealbreakers
This latex-free mat might need extra padding underneath, especially if you have weak knees. Its non-slip surface and cushioning support extra padding, maybe made up of PVC or natural rubber. The last drawback refers to its lack of anti-microbial properties. Which could be a complete no-no for people with allergies.
Our Best Step-Up Pick
The Manduka PRO Yoga Mat resembles a solid high-density pick. It is not only well-cushioned, but offers extra toughness and feels extremely firm. This is a denser pick than most, so you feel more grounded on the mat without losing your balance. The dimensions are also greater than most picks, making it one of the most comfortable mats for people who love to move around a lot. The added space also offers resistance than a generic mat. It's perspiration-resistant and slip-resistant for intense sessions. What we loved the most about this best yoga mat is the sticky firm feeling. Even though it's a pricey, it is worth the investment given the longer and more resilient shelf-life than former foam-like mats.
Lastly, cleaning this mat with a non-solvent household cleaner is best. You can pair it with a damp cloth, a sponge, or a dry towel. Its eco-friendliness works well with design, making it the best non-toxic and chemical-free mat on the market.
Our Best Budget Pick
Falling in love with the YogaAccessories Non-Slip Deluxe Exercise Mat is easier than you think. It has the perfect thickness to keep you comfortable and your joints protected. But it's not so thick that it should interfere with your practice. With medium pliability, the surface holds down when you put your weight on it. Which is good for holding down all kinds of stability, strengthening, and balancing poses in yoga. Getting on this best yoga mat is easy and helps you enhance your practice, regardless of where you are. It features both anti-tear and scratch-resistant properties. So, rest assured you can use this pick for as long as you want. Some say this best yoga mat can endure years of use, if taken care of.
For cleaning, you can use soap water and a cleaning towel to wipe down after each use. Do not use scented oils or cleansers as that will leave behind unwanted toxins or chemicals on the surface.
Best Pick for Balancing Poses
This pick is skilled at supporting sensitive joints. It is a thick, high-density, and tough pick. With double-sided non-slip surfaces, you would face no problems balancing on it. It comes with a half an inch extra thickness for good traction. While the lightweight design and easy strapping allow the best portability possible. This pick is good for resting poses as much as standing poses. It's even good for meditating for yogis who combine the art of yoga and meditating into their daily sessions. What's more? The surface has a kind of sturdy yet lightweight feel to it. Which, if you ask us, is necessary for beginners. The mat can be rolled up and taken anywhere. It can withstand months and months of use, while keeping debris and moisture out of the way.
For cleaning, the surface is moisture-resistant so wiping it with soap water is necessary. The high-quality material doesn't absorb any chemicals from the soap, which is a good advantage for many yogis.
Best Pick for Professional Yogis
This pick offers the benefits of NBR without the high price tag. You get to select from 8 versatile colors to suit your personal preference. And the half-an-inch durability of NBR makes traction and cushioning ideal. What you need most for traction, which is stability, is well-served in this pick. It comes with removable carry-on strap. This means you can carry it to the gym, yoga studio, or for traveling. The fact that this best yoga mat holds up well against sweat, moisture, and pressure makes it one of the most durable picks on the market. It also provides enough cushioning to support your joints. For anyone practicing a wide variety of poses at once would need this pick to begin with.
For cleaning, the material is slip-resistant which makes it ideal for soaped water wiping. The lightweight design adds to its ease of use and upkeep.
Best Pick for Beginners
This pick is a planet-friendly and human-conscious pick for most people. It comes with a warrior-like grip with a unique AlightForMe system. This pick is advanced in so many ways. Making it one of the most comfortable mats on the market. Mats like these are best for beginners and intermediates. The eco-friendly materials and cushioning system support each new move beautifully. While the longer, wider, and thicker design supports and cushions the joints. The design features 2 distinct grip marks at both bottoms. With clear line markings on the mat, beginners know how to focus on their alignment and form. Body posture is often overlooked when practicing, so this pick keeps everything in check.
The durable material can be wiped clean with soaped water. It also comes with a carry bag to promote durability while the padding is resilient to sweat, perspiration, and dirt.
Best Pick for Ab Asanas
This pick is good for practicing handstands and similar ab asanas. It helps strengthen your core with its natural rubber and open cell structure. It is slightly thicker, yet firm for optimal comfort. It keeps your wrist and feet grounded without slipping. For example, while practicing the common downward dog pose, most mats often shift an inch or two. But not this one. It has better traction and anti-slipping features than others. It feels heavy on the ground, which is best for intense core exercises. The kind of grip you get from this best pick is difficult to find in the rest. It provides cushioning on top of traction- which makes all the difference for the choice this efficient and affordable.
You will need soaped water to wide down after each use. The material is slip resistant and natural rubber. This means it will last for longer when taken care of.
Best Eco-Friendly Pick
This pick is good for striking balance poses. It is made of natural rubber with a marbled effect and non-slip surfaces on both sides. This pick is made of renewable and sustainable materials, making it one of the best eco-friendly picks on the list. It has a 1/4-inch thickness which is good for breathability and balancing. The rubber material is made durable for years of use. While it resists sweat, moisture, and dirt. If you want to invest in a pick that enhances your practice, go for this one. It is a heavy, but firm pick for most people. So using it as an at-home choice is a good idea.
For cleaning, the closed-cell structure is easy to clean and maintain for the long run. You can wipe it with a dry towel and a mild mat cleanser. And let it air dry completely before use.
Best Pick for Vinyasa
This pick is food for the soul. It's the best yoga mat for a yogi teacher with a breathable and durable natural rubber construction. And with slip-resistant and eco-friendly properties, this pick offers incomparable cushioning and better compression-resistance. If you want a pick that combines both cushioning and traction for your vinyasa practice, go for this pick. The natural rubber design makes it an earth-conscious choice which is a huge advantage for teachers. It helps spread a good message to keep both the surrounding and the human body healthy and at peace. The surface works well against a little bit of sweating to prevent slipping or joint injuries. For sensitive knees, the thickness is perfect when you want to get through a lot of balance poses and arm balances.
Cleaning this pick is as simple as wiping it down with soaped water. You can also combine essential oils and cleanser sprays, from time to time, to keep the surface from stinking.
Best Pick for Travel Yogis
If you're a traveling yogi, this pick is for you. It's a foldable and roll-able travel mat with a lightweight and grippy design. The closed-cell surface offers excellent bacterial and stink resistance. Which makes it one of the best hypoallergenic mats on the market. This pick is made up of toxic-, PVC-, and latex-free materials. The best qualities are sustainable and durable for long-term use. We liked this pick for its easy accessibility and portability. You can use it right before take off or in the hotel room or elsewhere. You can fold it in your bag or carry it on your shoulders easily. The tightly woven scrim makes it tough while the natural tree rubber makes it comfortable. It's the best combination for any travel yogi.
Competition
Finding the best yoga mat wasn't easy. Many instructors and professional yogis will tell you how significant this step is in adding a new yoga mat to your kit. Our picks are good for most people because they restrict slipping and avoid knee injuries. Most have earth-conscious padding and offer plenty of traction and cushioning for ab asanas, hatha, vinyasa, and other striking sessions. A sticky and restorative surface is what you really need as a yogi. Whether you're a beginner or a professional, your key factors of consideration should be a smooth texture, comfortable padding, and gripping stickiness. And that's precisely what our picks have to offer.
Frequently Asked Questions
Q. What's the science behind practicing yoga?
A. To understand the need for the best yoga mat, you must be aware of the significant and empowering advantages of this practice. Knowing why you need the best yoga mat has a lot to do with understanding the fundamentals of such a choice. So, let's begin.
An ongoing revelation about practicing yoga is to work with the body and the mind. It's the perfect coordination and balance of both that make yoga possible. And so it's important to guide your bodily movements on a high-quality and non-slip mat. That said, studies suggest that yoga, specifically hatha form,has varied facets. But all in all, it encompasses what and who one is in a balanced and empowering way.
An argued notion that a human body has its own temperament, nature, and ego, independent of human mind is the focus of taking part of this form. The science behind hatha is not that it's a routine exercise, but it's improving posture, energy, and stability in oneself. Yoga-asanas, which is also commonly known as hatha yoga, is a way to observe and overcome a physical or mental barrier in your body. To attain such varied levels of consciousness, which have mental, emotional, and physiological forms, is to elevate your practice to a whole new level. And that is only possible with a good yoga mat.
Although it may not be conclusive, but yoga-asanas can help you recover from physical injuries or pain. For example, in one study, such therapy offers impressive recovery, far more effective than physiotherapy, for reducing pain, morning stiffness, and anxiety in patients with osteoarthritis of the knee. (1)
This study focused on the practice of meditation, pranayama, asanas, and relaxation techniques. A strong risk factor of osteoarthritis in adults is the development of psychological factors such as depression and anxiety. Physiological factors include pain around the joints, stiffness, swelling, and prolonged physical immobility.
Moving forward, opting for this practice to restore flexibility and fight body stiffness is essential. Your physical body prepares you for mental and emotional endeavours, which will help you look above and beyond your physical self as an entity. This is the true science behind incorporating yoga-asanas as a part of your life.
Q. How can I keep my yoga mat stink-free?
A. Using a clean yoga mat can mean many things. For one, you wouldn't want to wind up on a surface that's growing all kinds of bacteria in its fibres. In the same way, you don't want a surface that's seeping in moisture and that absorbs too much sweat- leaving behind a humid and unpleasant stench. Most of the times, this means you have chemical- and toxin-laden product. If that's the case, it's time to replace your old companion with an eco-friendly and breathable once. However, you should know that all mats need to be taken care of, regardless of their make. This means, if left uncleaned, they could lead cause unwanted humidity and excess sweat-stickiness. This is the main cause of why all your mats stink immediately after you roll it on the floor.
To make sure you're not housing a stinky surface, consider the following steps. This also depends on the material and texture of the surface. However, you can incorporate this cleaning method as a daily routine.
Wipe the surface of the mats clean with a dry towel at least once after use. Most yogis do this before practicing on the mat, but that's not right. You need to immediately eliminate the sweat from the surface, which happens only after you've practiced.
If a dry towel is not sufficient or strong enough to remove the sweat stains, you can use an organic spray to wipe it down. Make sure you're not allergic to the organic spray. This might help getting rid of any residue bacteria from the surface.
For a focused cleaning session, that is once in a couple of weeks based on how often you use the mat, combine dish soap with warm water, a gently scrub out oil and other stains from the surface. An alternative to soap would be organic cider vinegar solution.
These steps are plenty to help you get rid of sweat stains off the surface. Some brands recommend submerging the mats into warm water mixed with a cleaner or detergent. Once the surface is cleaned with a sponge, make sure all the excess water is squeezed from the mat, and then hang it to dry.
Similarly, a high-quality and tough mat can be washed on a gentle washing machine cycle. Just add some detergent and cold water and only wash the product until the spin cycle begins. Do not dry the product in a washing machine. It must be hanged to air-dry naturally. (2,3)
Q. I have sensitive knees. Which yoga mat is best for me?
A.  Contrary to popular beliefs, thicker yoga mats aren't the ultimate solution for comfort. You can be just as comfortable on a thin yoga mat as on a thick density one. Your focus should be to find anything that takes the pressure off of your joints, including your knees, while you can balance various poses. Density is another important factor when measuring comfort. Unless a yoga mat feels too squishy and sinks in when you place your palms face down, you have the perfect surface to soothe your bad knees.
Mats that are too soft, to begin with, are not suitable for holding a pose on especially while balancing. And mats that are too firm may end up injuring your knees and causing pain. The point is to stand stable on the surface, while building a solid foundation for your practice.
Our suggestion would be to start out with a slightly thicker mat. Beginners should take the lead for this one since they aren't still building the strength to hold a pose. However, the perfect thickness of a yoga mat is not a universal choice. It must be picked based on your personal preference.
Similarly, if you travel a lot – a thin mat is good for portability. Thinner mats are easier to roll up and carry in a bag or on the shoulders. A certain amount of thickness may be easier to find for anyone with sensitive joints. The same applies to pregnant yogis.
In one study, findings proved that the symptoms of osteoarthritis of the knee were significantly reduced with the help of daily hatha yoga practice. The group with the best results in recovery were taken for 60-minute hatha yoga sessions- 12 times a month for 2 months. It dealt with morning stiffness, pain, lack of flexibility, and lethargy and weakness in patients. (4)
Here are a few tips to keep in mind while practicing yoga when you have sensitive knees:
Lifting your kneecaps, to a certain degree, in poses that require you to keep your legs straight can protect the knees from hyperextension. Hyperextension is when you stretch your knees in mostly all straight-legged poses. This when your knee feels forced and causes pain. But lifting your kneecaps can be tricky and feel uncomfortable when done wrong. The best way to make sure you're lifting your kneecaps right is to stand straight with your feet parallel to each other. Do not starting lifting your kneecaps by engaging your knees, instead engage your thigh muscles and pull them toward your hips.
This exercise will strengthen your inner quad and vastus medialis muscles. You need to remember that hyperextending your kneecaps without engage your thigh muscles could lead to pain and discomfort. You need to avoid hyperextending your kneecaps automatically during practice. This form requires conscious attention and physical focus. (5)
Wrapping It Up
The Gaiam Print Yoga Mat scored high marks on thickness, firmness, texture, and stickiness. It has two sides with a sticky and firm surface that makes your hands and feet feel at-home. It lets you practice all poses with plenty of traction to support your body. That said, this pick is an excellent choice for core strengthening exercises too. So whether you're going hatha, vinyasa, or pilates, this surface is supportive, good for your knees, and durable.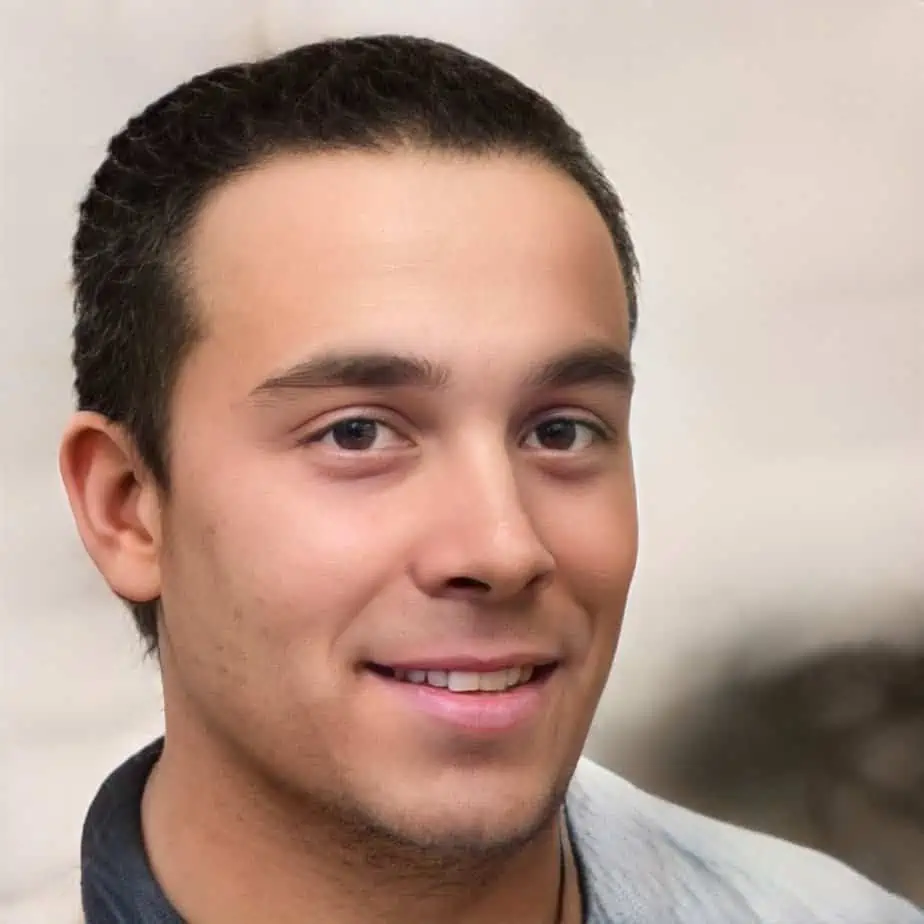 Jacky has a degree in Sports Science and is a Certified Sports and Conditioning Coach. He has also worked with clients around the world as a personal trainer.
He has been fortunate enough to work with a wide range of people from very different ends of the fitness spectrum. Through promoting positive health changes with diet and exercise, he has helped patients recover from aging-related and other otherwise debilitating diseases.
He spends most of his time these days writing fitness-related content of some form or another. He still likes to work with people on a one-to-one basis – he just doesn't get up at 5am to see clients anymore.