Golf is an increasingly popular sport among Americans and globally. As millions of people turn out to play for different reasons, others focus more on watching and reading about the game to increase their golfing knowledge and experience. But what makes golf so popular? What's its secret that makes it draw everyone's attention?
Tiger Woods is the Michael Jordan of the golfing world. He is known for breaking barriers and taking over the golf industry, a place that was initially believed to be exclusively for the White man. For this reason, he has drawn millions of people, among them Blacks to play, watch, and read about golf.
Some people also play golf as the key to enjoying the beautiful golf courses – accompanied by great food and entertainment – while others find the sport perfect for building relationships – business and social. Golf is also a perfect exercise for everyone (old and young) and great for your mental health.
Interestingly, some people find the sport an ideal opportunity to watch and appreciate the beautiful women swinging the clubs out there. Yes, LPGA is the home to some of the most beautiful women in the world, and here are the top 25 you should watch out for!
The 25 Most Gorgeous Female Golfers
LPGA is the home to the world's most beautiful and talented women, passionate about playing golf. These women work hard every day to showcase their precision at swinging their clubs – beauty, brains, and hard work — and they are as follows:
25. Carly Booth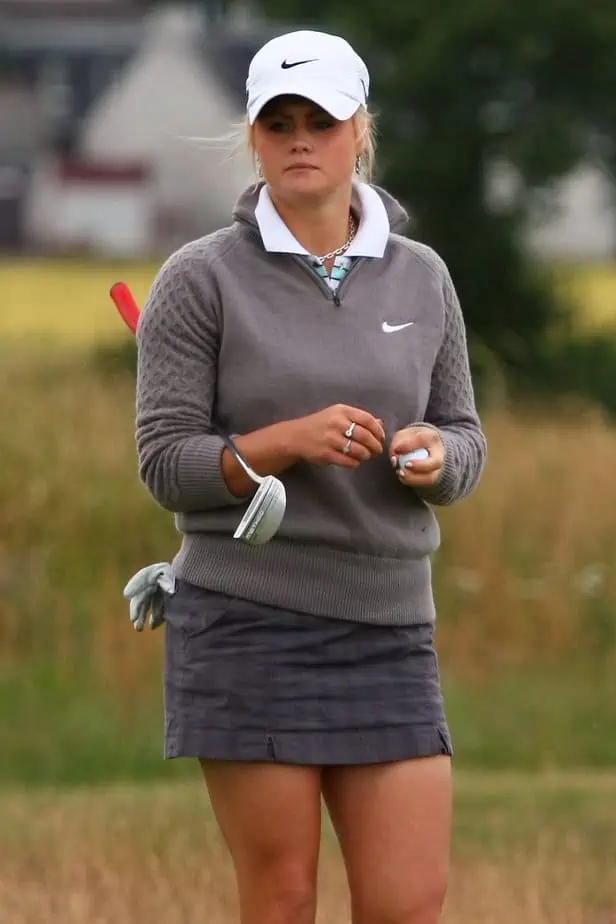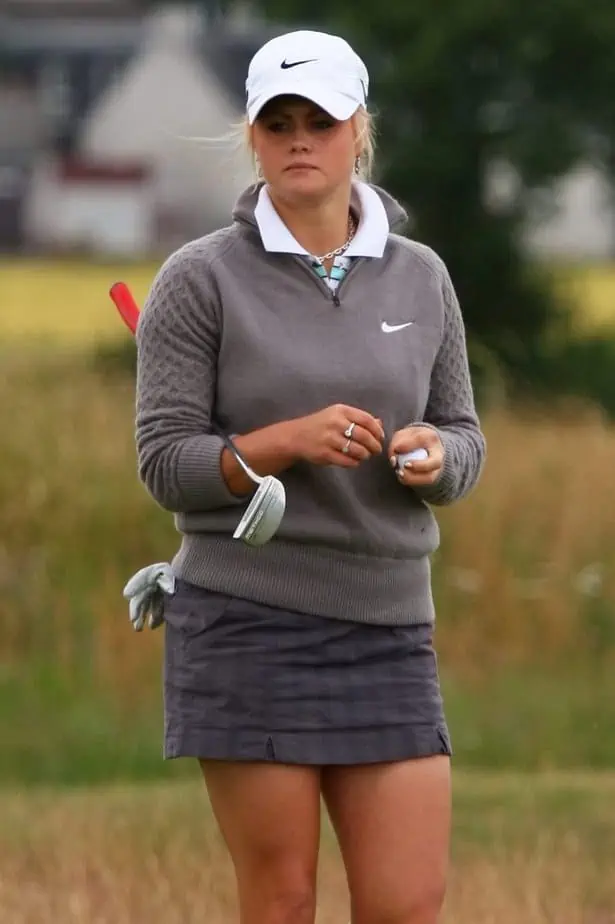 "Carly Booth " by Wojciech Migda (Wmigda) / CC BY-SA 3.0.
Carly Booth was born on 21 June 1992. The Scottish golfer qualified for the Ladies European Tour in late 2009, becoming the youngest ever Scot for the achievement at 17.
Previously, she was the youngest ladies' club champion in Britain at 11, at Dunblane. Her latest win was at the Tipsports Czech Ladies in 2019, a reflection of her hard work – her father designed a golf course exclusively for her and her brother, Wallace, where they tirelessly practiced to become the current professional golfers we see today.
Booth's previous professional wins include the Aberdeen Asset Management Ladies Scottish Open, in May 2012 (first) and the second at the Deutsche Bank Ladies Swiss Open in June the same year.
24. Natalie Gulbis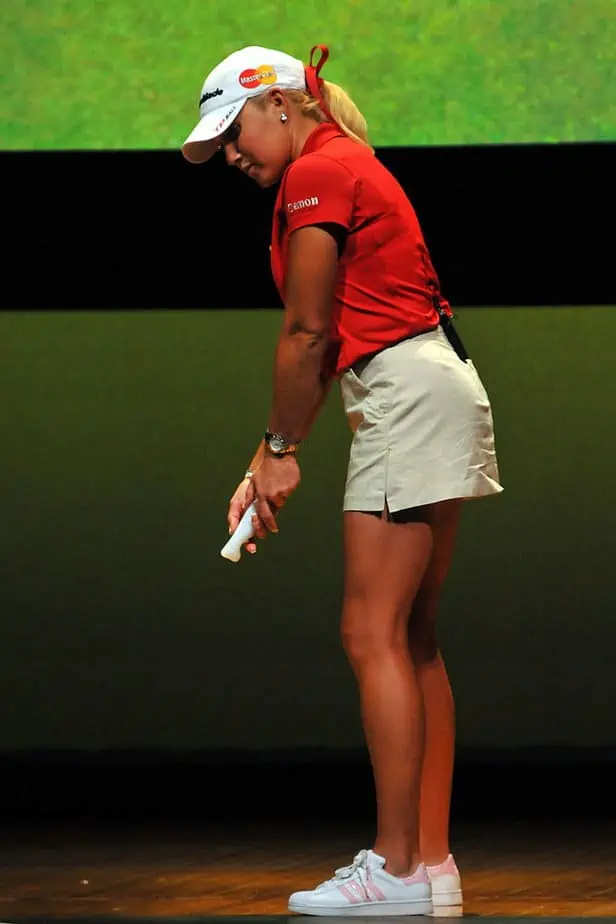 "natalie gulbis" by Joits / CC BY-NC-ND 2.0.Natalie Anne Gulbis was born on January 7, 1983, as an only child to her parents. The American golfer grew up playing golf in California – she developed an interest in golf at age 4 — and won her first tournament at 7, before playing her first LPGA Tournament at 14. Interestingly, she played on her high school's (granite Bay High School) boy's golf team before graduating at 16.
Besides playing golf, Natalie created her own calendar, has featured on several TV reality shows, and appeared in the Sports Illustrated Swimsuit, 2012 Issue.
23. Sydnee Michaels
Sydnee Michaels was born on June 15, 1988, in Upland, California, and the last in her family of eight siblings. The American professional golfer was a graduate of LPGA Future Tours (2011), a year after she became professional in 2010.
Michaels won the past two season events including the Price Chopper Tour Championship and finished fourth in the Futures Tour official money list (2011) during which she earned $56, 232. She became a full member of the LPGA Tour in 2012 which led to her Futures Tour Rookie of the year award.
22. Paula Creamer

"Paula Creamer" by dnkbdotcom / CC BY-NC 2.0.
Paula Creamer is an exemplary American Golfer who boasts of 12 tournament wins accompanied by 10 LPGA Tour events. Additionally, she also holds several endorsements, making her one of the most accomplished golfers on our list.
She was ranked second in the Women's World Golf Rankings besides being the champion in the 2010 U.S. Women's Open tournament. She held the 12th position on the all-time LPGA career money list with her $12,134,840 earnings. She held multiple golf titles playing as an amateur among them 11 American Junior Golf Association (AJGA) tournaments.
She qualified for the LPGA Tour in 2005 and her Sybase Classic victory that year made her the second-youngest event year in LPGA. Creamer boasts of a thriving career, with all the endorsements and amazing rankings including the top 10 highest-earning female athletes.
21. Courtney Harter
Courtney Harter was born on January 23, 1989, in Clearwater, Florida. She began playing golf at 10, which served as a foundation for her LPGA Symetra Tour and Ladies European Tour. Her other hobbies include cooking, traveling yoga, and working out.
Harter was ranked position 48 by the American Junior Golf Association besides winning the 2006 AJGA Golf Pride Junior Classic Championship title. Courtney also carried the medallist honors at the North & South Junior Championship in 2005 and the lowest score on the AJGA tour in the same year for firing a 66 at the LPGA International. In 2004, she won the Nike Junior All-Star at Lee County AJGA (2004).
20. Veronica Felibert
Veronica Felibert was born on 29 June 1989 in Venezuela and began playing golf at 7. She became an LPGA Tour member in 2012 with 2014 being her best career year in which she won the Credit Union Classing besides carrying six Top 10 Finishes. She loves cooking, running, spending quality time with her loved ones, shopping, dancing, and eating sushi.
She attended 16 events in 2013, in which she made 6 cuts worth $24,558 (118). She was also the best T43 season player at the Mobile Bay PLGA Classing in the same, in addition to the 14 events she attended in 2012 – made 5 cuts worth $109, 547 (56) – 1 top 5 finish, and her career-best finish with a T4 at the P&G hosted Wal-Mart NW Arkansas Championship.
19. Natalia Ghilzon
Natalia Ghilzon is a Canadian professional golfer born on May 18, 1990, in London, Ontario. Gilson gained an interest in golf at the tender age of three and began competing in golf tournaments by 11, during which she defeated her opponents who were three and four years older.
She participated in the CN Canadian Tour event held at Ambassador Golf Club between June 17 and June 19, 2013. Besides being a pro golfer, Ghilzon loves her drinks, dogs, and working out making her one of the coolest ladies on our rank list.
18. Kathleen Ekey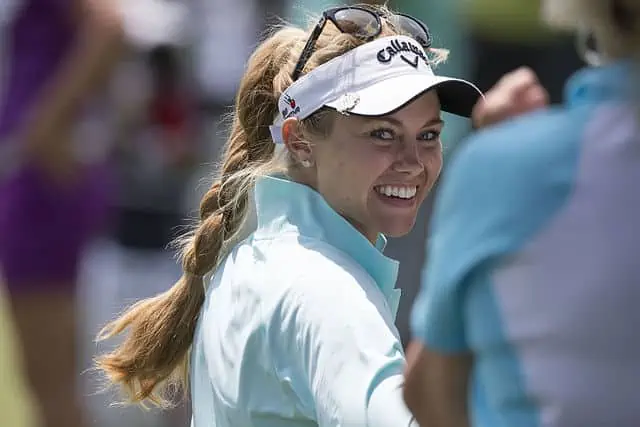 Kathleen Ekey by Keith Allison/ Creative Commons Attribution-Share Alike 2.0
Kathleen Ekey was born on November 8, 1986, in Cleveland, Ohio. The American professional golfer became a pro in 2009, the same year she joined the Futures Tour, making her an official LPGA member.
Kathleen was ranked the Futures Tour Player of the Year in 2011 after completing the top of the tour's money list. She also played golf during her two college years at Furman University before transferring to the University of Alabama. Unknown to most people, Ekey is married.
17. Valeria Ochoa
Valeria Ochoa is a prominent LPGA golfer who was featured on Big Break VII, a golf reality show. She is your perfect option if you are looking for somewhere to learn golf as she teaches the sport at the Diplomat Golf Club in South Florida.
16. Demi Runas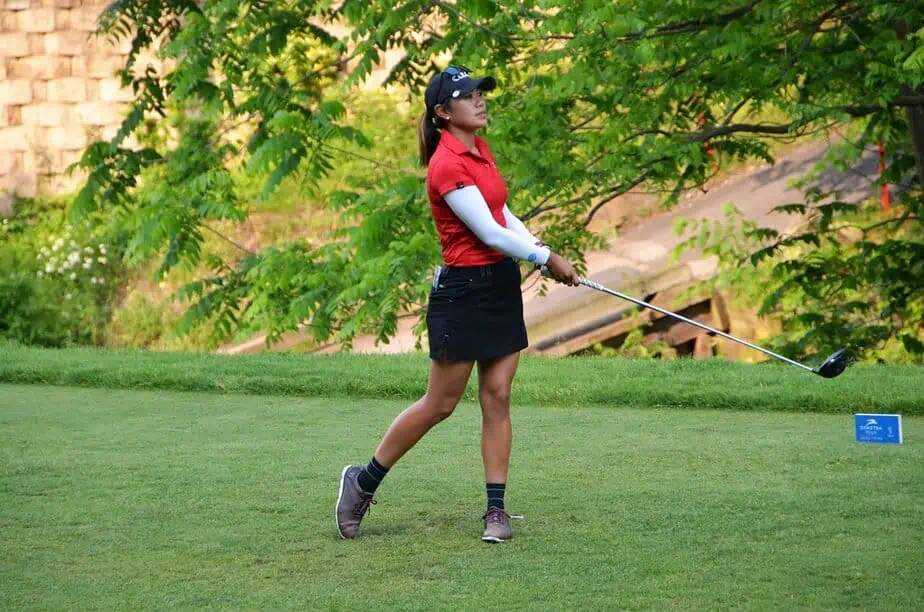 "Demi Runas" by Michael M Stokes / CC BY 2.0.
Demi Frances Runas is a professional American golfer born in 1991 in Los Angeles, California. She began playing golf at age 8 and played throughout high school, combining it with soccer, before she became a pro golfer in 2014. She was a member of her university's golf team and won the Big West Conference Player of the year.
Besides golfing, Davis also loves baking, working out, and yoga. She participated in the Symetra Tour in 2014, in which she finished with two second and two third place finishes and ninth on the 2015 LPGA Tour card money list.
On 8 January 2015, Runas made her debut on the LPGA Tour at the Coates Golf Championship, where she finished the cut with her 6-over after two rounds. In March of the same year, Runas made her first earnings — $4300 by finishing 6-under at the JTBC Founders Cup and 54th overall.
In 2016, she made her first top-ten finish during the Meijer LPGA Classic, with her 10th with 9-under.
15. Jessica Korda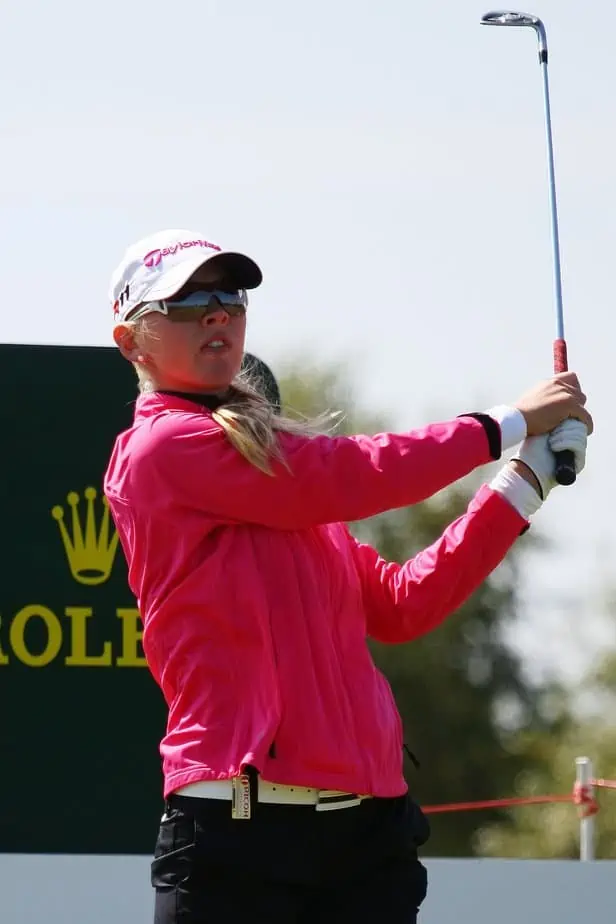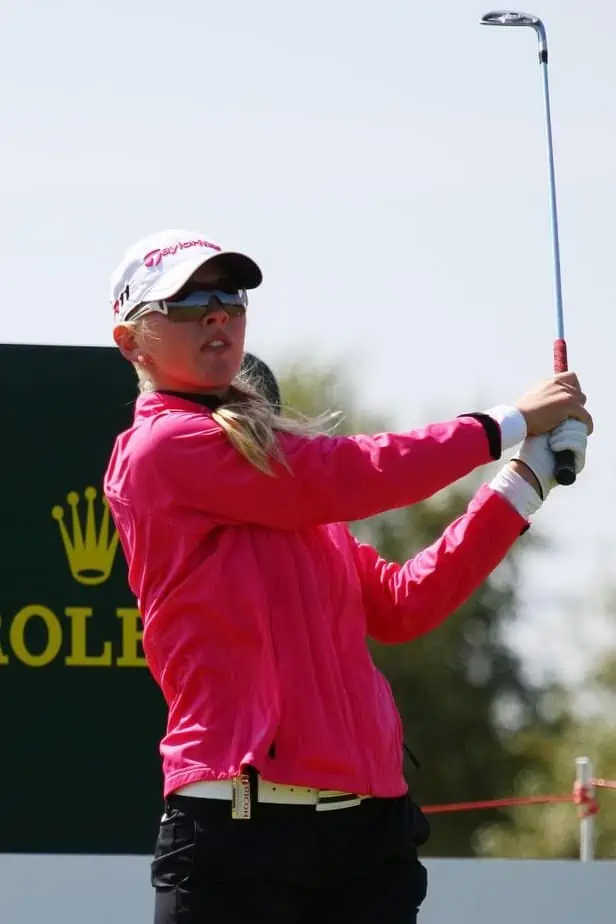 "Jessica Korda" by Wojciech Migda (Wmigda) / CC BY-SA 3.0.
Jessica Regina Korda was born on February 27, 1993. She is the daughter of retired professional tennis players Regina Rajchrtova and Petr Korda, and sister to Nelly Korda, another pro golfer on the LPGA tour. She hit 18 during the second event of the 2011 LPGA Tour and took part in 15 events as a rookie, with her best finish being a tie for 19th at the AVNET LPGA Classic.
Jessica bagged her first professional win in the first event of the 2012 season at Royal Melbourne's Women's Australian Open, after 72-70-73-74rounds, which led to her victory on the second hole of a six-person playoff.
She won her second LPGA Tour title season during the opening of the Pure Silk-Bahamas LPGA Classic season in January 2014, with one shot ahead of Stacy Lewis. She currently holds 5 LPGA wins and married Johnny DelPrete, her long-time boyfriend, on December 11, 2021.
14. Nikki Garrett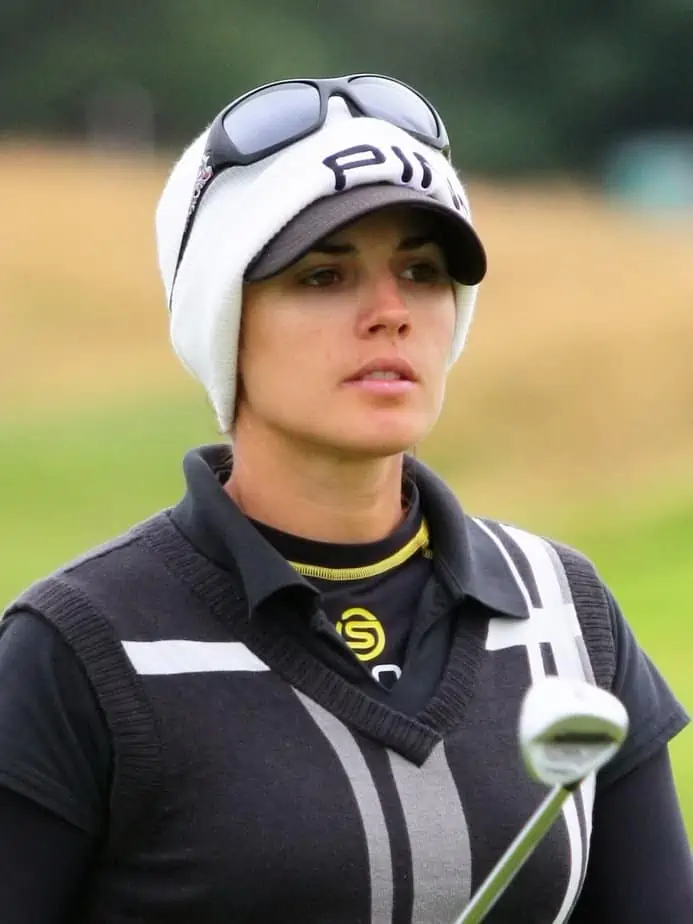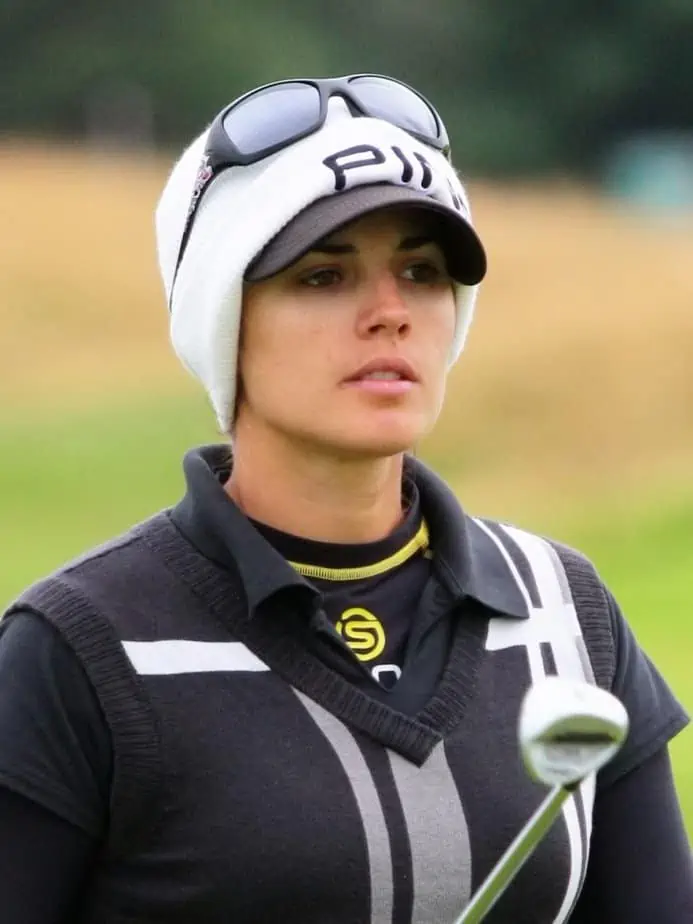 "Nikki Garrett " by Wojciech Migda (Wmigda) / CC BY-SA 3.0.
Nikki Garrett was born on January 8, 1984. This Australian golfer turned professional in late 2005 and qualified for the Ladies European Tour in 2006.
Despite not winning a tournament in her rookie period, she made four top-ten finishes which led to her 12th position on the Order of Merit standings with earnings of £99445 combined with her Ryder Cup Wales Rookie of the year award in 2006.
2007 remains one of her best years, in which she collected multiple titles at the Open de Espana Femenino and Tenerife Ladies Open.
13. Sharmila Nicollet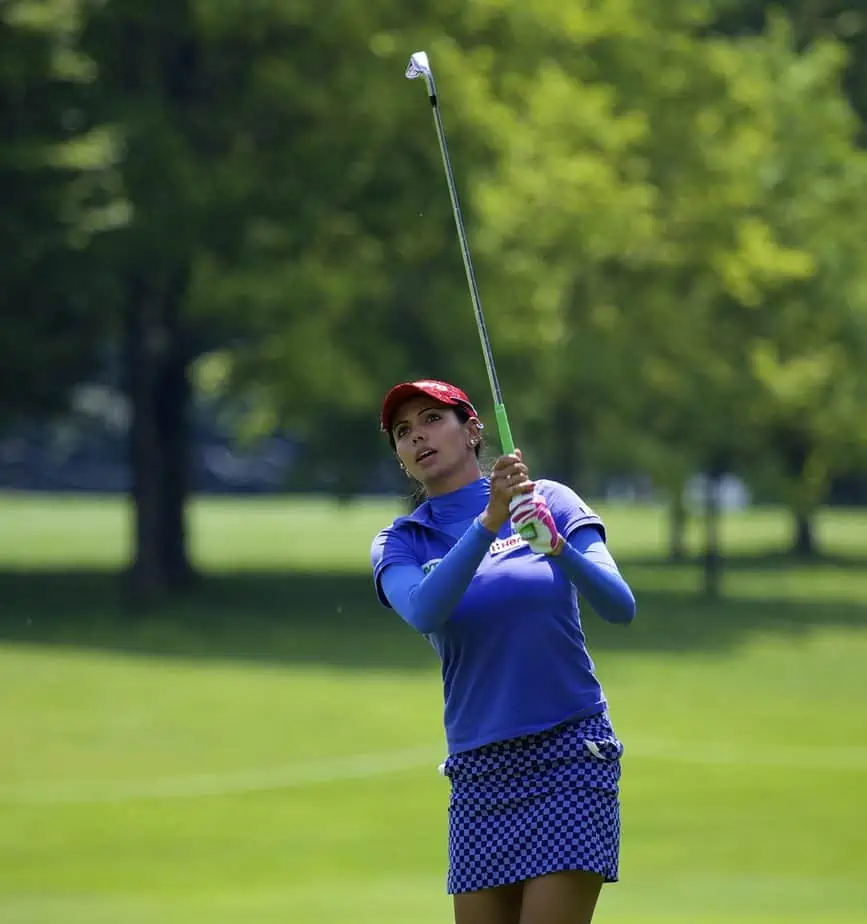 "Sharmila Nicollet" by andre_engelmann / CC BY-NC-ND 2.0.
Sharmila Nicollet was born on March 12 1991 in Bangalore, India. The Indo-French pro golfer turned professional in 2009, when she turned 18, but had previously represented India in the 2006 Asian Games in Doha.
Her other international Amateur tournaments include the Malaysian Open, the Queen Sirikit Cup in Japan, and the Callaway Junior World Golf Championships, San Diego. She became the youngest Indian to qualify for the Ladies European Tour and the second to earn a full card on the same after she qualified for the tour in 2012.
She won 2009/2010 Order of Merit on the Women's Golf Association of India and five other events which led to her top finish in the 2010/2011 Order of Merit. She was the top Indian golfer at the 2011 T22 Hero Honda Women's Indian Open thanks to her lowest score of the day in the final round.
Besides being the Hero-KGA tournament champion in 2012, and Hero-WPGT in 2015, she is also the tallest golfer on our list and among the most photographed golfer in India. She loves fitness and working out.
12. Belen Mozo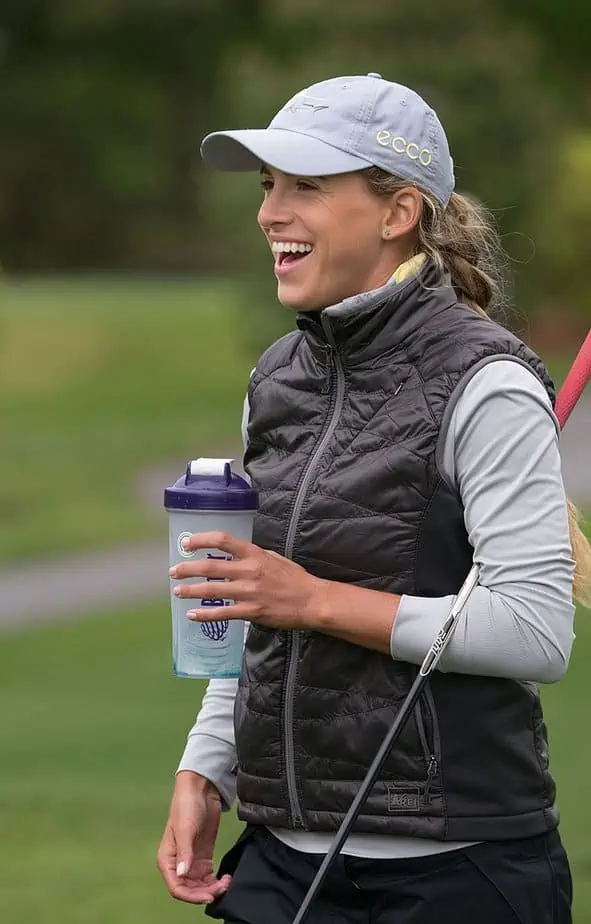 Belen Mozo by Keith Allison / Creative Commons Attribution-Share Alike 2.0
Belen Mozo was born on 25 September 1988. She is a Spanish golfer on both LPGA Tour and the Ladies European Tour. She played in the British Ladies Amateur Championship in 2006, which she won, before joining the USC Trojans golf team.
Belen became a pro golfer after her four years of collegiate golf which led to her qualification as an LPGA Tour rookie in 2011.
11. Melissa Reid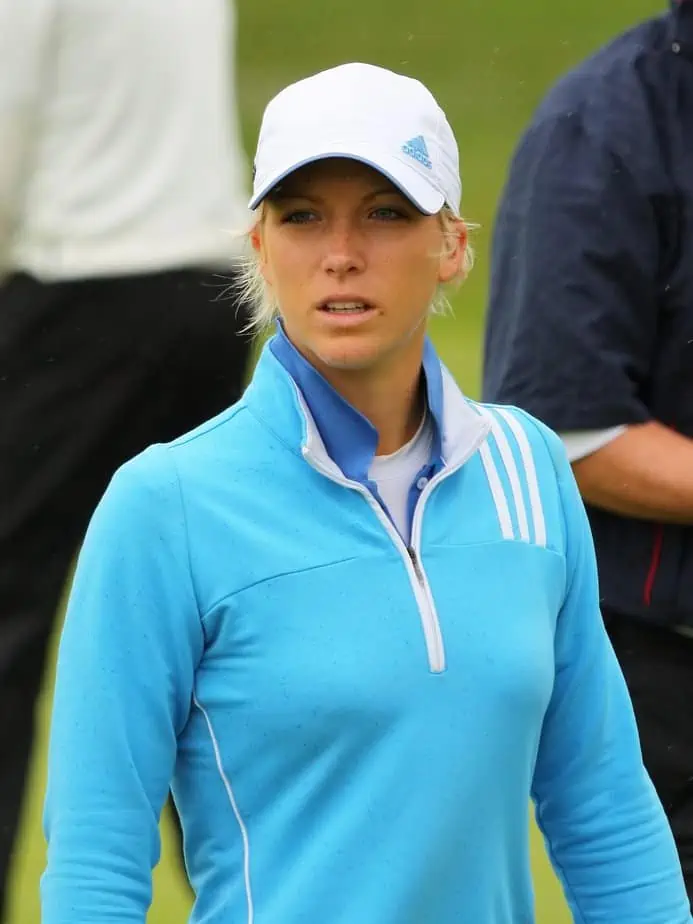 "Melissa Reid " by Wojciech Migda (Wmigda) / CC BY-SA 3.0.
Melissa Reid was born on 19 September 1987 and is an English pro golfer who plays on LPGA Tour and the Ladies European Tour. She bagged several wins as an amateur including the 2004/2005 English Girls' Championship, the Helen Holm Trophy (2006/2007) and St Rule Trophy (2007), and the Ladies British Open Amateur Stroke Play Championship in 2007. She was a member of the Great Britain and Ireland team during the Curtis Cup (2006).
Despite the failure to win the LET Qualifying School card in 2007, Italy, she became a professional later in the same year allowing her to participate in the Ladies European Tour the following year on sponsor invitations.
She stayed in the top 20 on the money list and gained entrance into the LET events the rest of the season thanks to her third-place finish during the Australian Open, held in early February.
She was ranked 12th on the 2008 money list besides winning the LET Rookie of the Year. Her first victory happened in 2010 at the Turkish Airlines Ladies Open followed by two in 2011 besides becoming a member of the 2011 Solheim Cup. It is the latter that helped her secure a position in the European team as the leader in the LET rankings.
10. Sophie Horn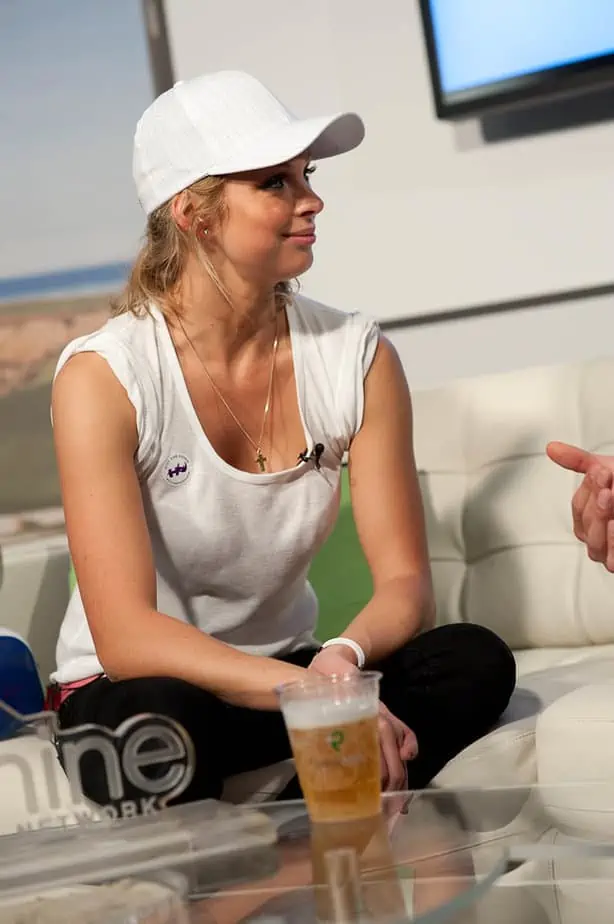 "Sophie Horn" by Back9Network / CC BY 2.0.
Sophie Horn is an English pro golfer born on January 1 1986 in, Norfolk England. Interestingly, Horn is more of a model than a golfer to most people. Her most active golf year was 2012 but unfortunately, hasn't been an active golfer or model since then.
9. Maria Verchanova
Maria Verchanova was born on 27 March 1986. She is the first Russian golfer to qualify for a full-time Ladies European Tour membership besides setting a course record during the Rio Olympics with a 62. She boasts of several top-ten finishes, which she completed between 2012 and 2015, under her married name Maria Balikoeva.
She qualified for the Summer Olympics in 2016 and shot a course 62 in the 4th round and finished in 16th position. Besides her successful golf career, Verchanova also holds several incredible years of modeling.
8. Lily Muni He
Lily Muni He is a Chinese pro golfer born on 17 June 1999 in Chengdu, Sichuan, China to her hotelier and restaurateur father. It is the latter who introduced her to golf at a tender age, which laid a foundation for her thriving golf career. By age 5, she was playing competitively. The family later relocated to Vancouver and San Diego later on, so she was enrolled at Torrey Pines High School.
The U.S. allowed her to play golf more regularly and competitively via the San Diego and Southern California junior golf tournaments among others such as U.S. Kids' Golf and American Junior Golf Association events.
She played the Polo Junior Classic (2015) and the Minnesota Invitational (2017) as an amateur, which she won. She had four starts on the LPGA Tour and made the cut at the U.S. Women's Open in 2015 where she tied at 53rd place before becoming a pro in December 2017.
She claimed her first Symetra Tour win in July 2018 during the inaugural Prasco Charity Championship held in Maineville, Ohio, and the eight-round LPGA Q-Series in November, which helped her secure a place on the 2020 LPGA Tour. She has also signed endorsement deals with reputable brands such as WeChat and Nike.
7. Lexi Thompson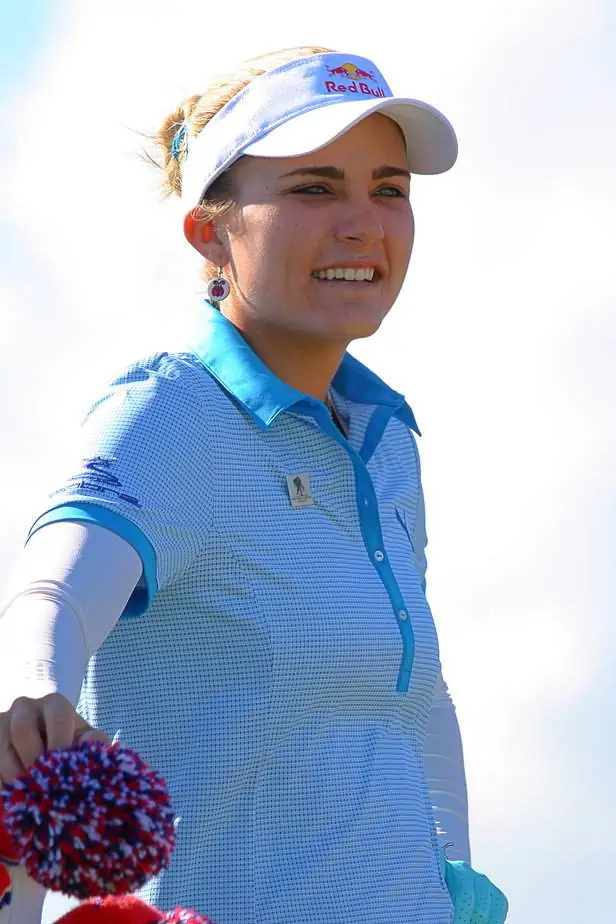 " Lexi Thompson " by Wojciech Migda (Wmigda) / CC BY-SA 3.0.
Alexis Noel Thompson was born on February 10 1995 in Coral Springs, Florida. The American pro golfer plays on LPGA and was the youngest golfer to qualify for the U.S. Women's Open at 12. She became a pro at 15 and became the youngest winner of the LGPA Tournament at 16. Her golf career has been thriving since then – she boasts of 1 major and about a dozen other tournaments.
6. Michelle Wie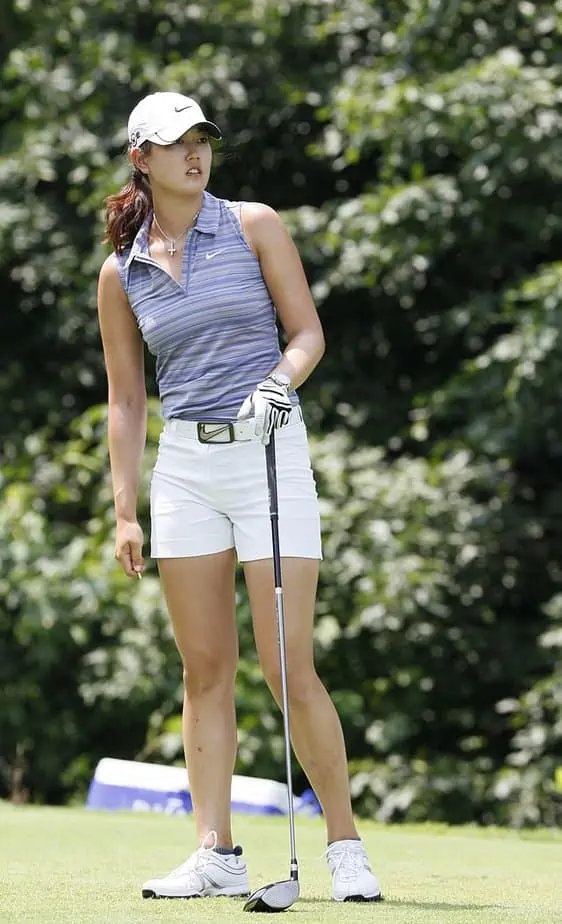 Michelle Wie by Keith Allison / Creative Commons Attribution-Share Alike 2.0
Wie is an American pro golfer born on 11 October 1989, currently playing on the LPGA Tour. Besides being one of the youngest golfers to qualify for the Tour, Wie also holds multiple titles under the "Youngest Female Golfer" Class.
Wie boasts of 1 major among other tournaments that she has won over the years aside from dealing with controversy for playing in men's golf tournaments – something she last did in 2008. The golfer is married to Jerry West's son, the American basketball legend, and the couple was blessed with a baby girl in June 2020.
5. Beatriz Recari Eransus
Beatriz Recari Eransus is a Spanish pro golfer born on 21 April 1987. She plays on the LPGA Tour and the Ladies European Tour and boasts of 3 LPGA Tournament wins alongside 1 in the latter. She qualified for the Ladies European Tour in November 2005 before she turned pro in 2006 for the LET Season.
It was until December 2009 that she played in the LPGA Final Qualifying Tournament held at Daytona Beach, Florida. She finished the event in 10th place which earned her the LPGA Tour card for the 2010 season. She was ranked 175th in the 2009 Women's World Golf Rankings.
4. Lucy Robinson
Lucy Robinson is a unique character on our rank list whom we classified as "an Instagram model who golfs." Sadly, this hot model doesn't golf professionally but was named the Treasure Coast Player of the Year (2012 and 2013).
She also played collegiate golf at Cal Poly and the University of South Florida. Currently, she doesn't do much except as an Instagram model, and her beauty has earned her an immense following that can easily allow her to organize a successful celebrity golf tournament.
3. Cheyanne Woods
Cheyanne Woods is the niece of the legendary golfer Tiger Woods, explaining why it would be safe to say that golf runs in her genes. She holds more than 30 amateur tournaments including the Volvik RACV Ladies Masters. Besides golfing, she loves hiking, traveling, and ping pong. If she weren't golfing for a living, she would probably be doing sports broadcasting.
2. Blair O'Neil
Blair O'Neil is another huge name of this name, popular for its versatility – model, pro golfer, host of the Golf Channel, and winner of the "Big Break: the Dominican Republic", which is a golf reality show among other incredible titles. Above all her beauty, and thriving career, she is married.
1. Paige Spiranic
This list would be incomplete without this great and hot golfer's name, Paige Spiranic. She was previously ranked 1st on our rank list of the 50 hottest female athletes, something she easily deserves. While she hasn't professionally golfed since 2016, she did her fair share before then, and it wasn't disappointing. Spiranic serves an incredible balance between social media golfing and commentating spiced with a little modeling. While she remains great at keeping her love life on the low, it is proven that she is taken.
Final Thoughts
Golfing and beauty seem to go hand in hand, based on our list above. Besides the 25 hottest female golfers we discussed, there are many other beauties out there that you may want to see on this list. Please comment below and we will be happy to update our list, with respect to your suggestions.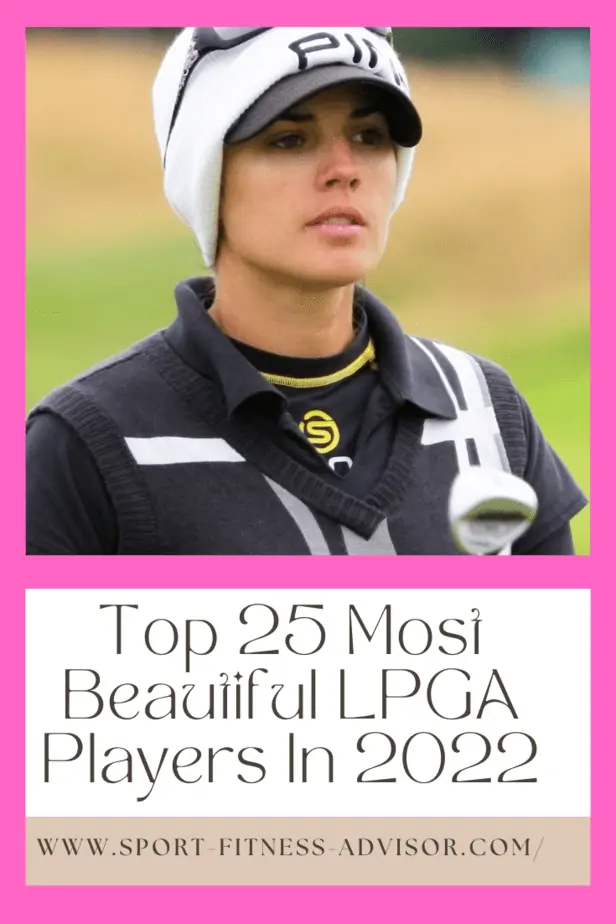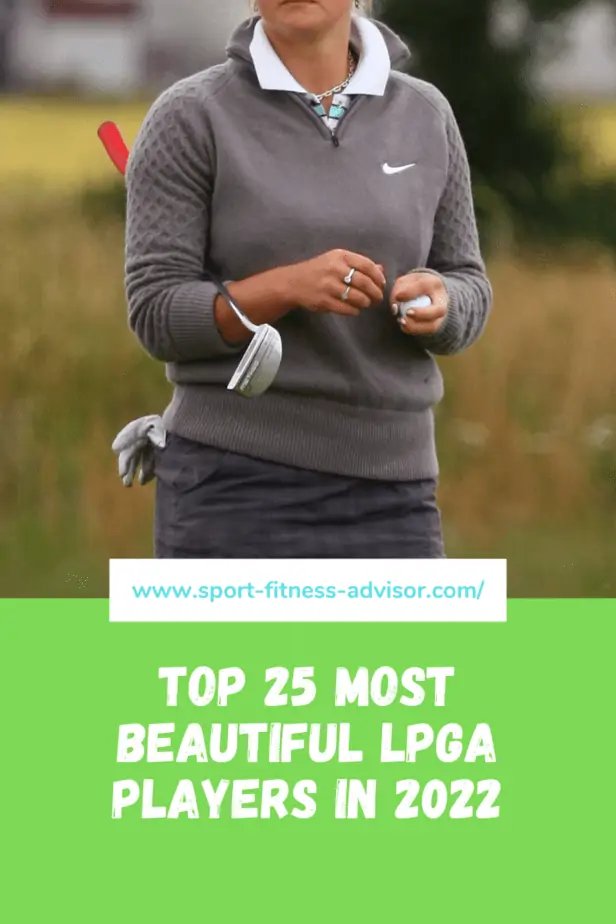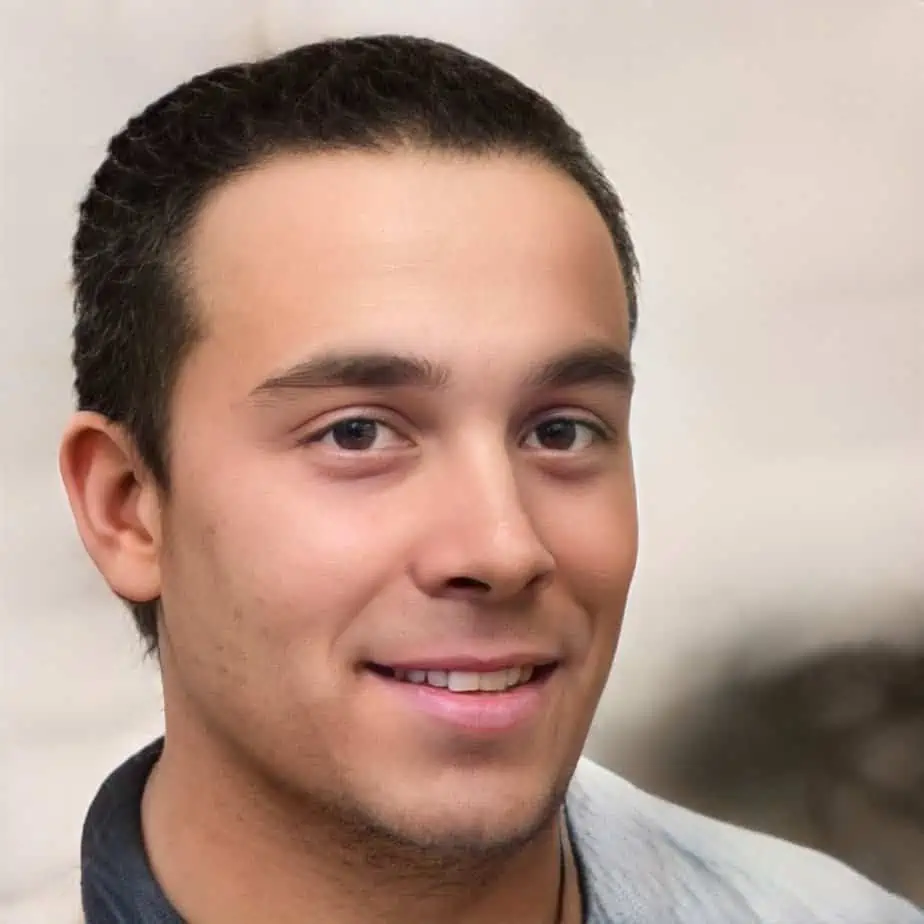 Jacky has a degree in Sports Science and is a Certified Sports and Conditioning Coach. He has also worked with clients around the world as a personal trainer.
He has been fortunate enough to work with a wide range of people from very different ends of the fitness spectrum. Through promoting positive health changes with diet and exercise, he has helped patients recover from aging-related and other otherwise debilitating diseases.
He spends most of his time these days writing fitness-related content of some form or another. He still likes to work with people on a one-to-one basis – he just doesn't get up at 5am to see clients anymore.