The OutdoorsmanLab Ultralight is our pick for the best sleeping pad, which is great for ultralight backpacking. It has a good weight of only 14.5 ounces and is made with ripstop 20-denier nylon fabric for durability.
Our step-up pick is the Klymit Static V and it is also lightweight at only 18.6 ounces. It takes only 10 to 15 breaths to inflate manually and has a v-chamber design for comfort. The valve's design makes inflation and deflation a breeze.
The budget pick is the EcoTek Outdoors Hybern8 and it is made with durable 70-denier woven material that is made with polyester for durability. With a length of 74 inches, it's light at about 1 lb or less and can only take 10 to 15 breaths to inflate.
A Little Background
A backpacking sleeping pad is a kind of camping gear that helps you to sleep more comfortably on any surface while outdoors. These pads can simulate mattresses but are very lightweight to carry on a backpacking trip. The good thing about this kind of sleeping material is that it will be easy to pack so you can take it with you anywhere you go. They are usually made of soft material but not flimsy to go flat easily.
These camping sleepers can be used in many situations, most notably camping in the wilderness and backpacking. They can also be used in sleepovers, whether indoors or outdoors, to make your sleeping experience better, especially if the floor is too cold for you to sleep on. They can also be used in survival shelters or disaster tents for an emergency sleeping mattress for families or individuals.
Choosing the right size of sleeping material for camping is crucial. If you pick one that is too big, it may be more difficult to carry and maintain, and it might also take too much space in your tent to sleeping ground. If you pick one that is too small, it will get uncomfortable to sleep on and will also tend to get torn apart faster than a correctly sized one.
Packing alone requires a sleeping material that is lightweight to carry. You obviously can't carry a mattress sized sleeping material, so it's best to stick with one that is not so heavy and not too big for your solo packing trip. The weight of the sleeping material can sometimes depend on the density of the material. However, it should not be sacrificed if you talk about firmness that doesn't go flat.
There are many benefits for your back and for your health if you sleep on a less bumpy surface in camping. First and foremost, waking up feeling refreshed may be thanks to the fact that you slept on a much more comfortable sleeping material at night. It can give you tossing and turning and insomnia at night if you choose not to sleep with this kind of material in your backpacking or camping trip.
Like mattresses, some of these camping pads can also give you insulating properties when it is cold outside. If you need to stop over and sleep for the night when it's blistering cold outside, such as if you need to go mountaineering or go to a high area where the cold air is very thin and you won't be able to sleep comfortably, a comfortable material that is good with insulating qualities can help you sleep better.
How We Picked
When you choose the best backpacking sleeping pad, you should consider the following:
Size of the pad: picking the proper size is important – you should know who will be sleeping on it before you choose one so as not to make mistakes and inconveniences in your camping or backpacking trip. The size can be small or large depending on who will use it. For example, short people and kids might just benefit from a smaller sized sleeper while those that are taller may benefit from a larger one.
Construction: most of these sleeping materials will have a unique construction that can adhere to your back so that you can sleep comfortably for the rest of the night. They may have special shapes such as air support, cells and the like. Taking a look about how the construction can make your sleeping experience better when camping or backpacking (either solo or with a group) is important.
Weight: of course, it is important to look into the weight of the sleeping material itself, since it will be used for backpacking and carrying throughout the trail and on your backpack. The weight should not sacrifice the quality of the material when you sleep on it and should not go easily flat either.
Ease of inflation: most of these sleeping materials are inflatable, and it's up to you whether to get a quality one or not. They should be easy to inflate and less of a hassle to work with when setting it up for your camping trip or resting area.
Color choice: some people actually pick sleeping materials based on the color of their tent, so not only does it look good, but it may also be a great indicator as to which is which when you sleep with many people inside the tent or shelter area. Make sure that the color does not easily fade over time, and that the color does not give off any harsh chemical smells from its manufacturing process.
Ease of deflation and packing: while it can be easy to inflate, it should also be easy to deflate and take down to pack it up in a provided bag so that it will be taken with you anywhere you go. Most of these backpacking gears come with a ready to go drawstring bag so you can store the packed sleeper when you don't need to use it for the moment, or if you're moving from one place to another.
Specific usage: some of these sleeping materials can be used on f a specific purpose. For instance, some people like to go on a solo backpacking trip, while others want to go with other people as well. Some are used for mountaineering, so they need to be highly durable and insulating, while others are simply for scouting so they don't need to be super high-tech and pricey. It's a matter of picking the right sleeping material for your intended usage.
Our Pick
As our top pick, the OutdoorsmanLab Ultralight is super durable with its ripstop fabric made with 20-denier nylon. Light at only 14.5 ounces of weight, it is good for ultralight backpacking and is made with air support cells for its surface design. The thickness is at 2 inches while the length is 74 inches. It can be packed tightly and in a compact way of only 3.5 x 8 inches for UL packing.
Flaws but Not Dealbrakers
While not a major con, the OutdoorsmanLab Ultralight may not fit well for large people, but it will be okay for most sizes.
Step-up Pick
For our step-up pick, the Klymit Static V is super lightweight at only 18.6 ounces and has an inflated length of 72 inches. It takes roughly 10 to 15 breaths to manually inflate it and the v-chamber design ensures comfort while the push valve makes setting it up very easy.
Budget Pick
Our budget pick, the EcoTek Outdoors Hybern8, bears a FlexCell design and a 70-denier polyester woven material. When inflated, it has a thickness of 2.2 inches and a length of 74 inches. It is tear resistant and is also easily inflated due to its valve design.
Best Backpacking Sleeping Pad with Closed Cell Foam
The Therm-a-Rest Z Lite has a lightweight feel and is great for those who want a closed cell foam designed sleeping material. It uses ThermaCapture for better insulation in cold winter nights, making it great for mountaineering as well.
Best Backpacking Sleeping Pad that is Self-Inflating
The TNH Outdoors Premium is a lightweight but self-inflating sleeping material that has a thickness of 1.5 inches and is made with an outer shell made of 75-denier polyester for durability. It is easy to inflate for those who barely have time to do so.
Best Backpacking Sleeping Pad with Air Inflation
Great for backpackers, scouts and the like, the Hikenture Sleeping Pad is a traditionally inflated sleeper that is made with 20-denier nylon alongside TPU for insulation. It can be used on nearly any kind of outdoor activity due to its versatility.
Best Backpacking Sleeping Pad for Ultralight Packing
The LivBright Sleeping Pad is great for UL packing due to its ease of inflation and compact design. It also adheres to side sleepers well and is waterproof for the great outdoors. It also comes with a built-in pillow for ultralight packing.
Best Backpacking Sleeping Pad with a Pillow
If you want something that already has a pillow, the Hikeloop Inflatable is for you. It is made with polyester taffeta PVC for its durable fabric and has a thickness of 1.4 inches. It has a length of 73 inches and has free flow valves for inflation.
Best Backpacking Sleeping Pad for Tall People
If you're a tall person, the Redcamp Backpacking Pad is an XL-sized sleeper that might fit you instead. It is also self-inflating and can be setup as quick as 10 minutes. The length is at 79 inches for extra room for your sleeping experience.
Best Backpacking Sleeping Pad that is Waterproof
The Triphunter Gears Pad is great for hiking and backpacking wherever there is water due to being waterproof. It can take as much as 220 lbs of weight and has a thickness of 1.5 inches. It's super lightweight at only 37 ounces and its length is 73 inches.
The Competition
Other sleeping gear didn't make it to our list because the lacked in durability, puncture resistance and were too bulky to carry to the trail. In backpacking, a lightweight sleeping material should be carried for less hassle.
Other Frequently Asked Questions
Q: What are the different types of sleeping pads?
A: For those who want to choose the right sleeping material for their backpacking trip or even for a camping trip, there are different kinds to choose from, such as the following, and their pros and cons:
The air pad is the most preferred type of sleeping material for those who want to go ultralight when backpacking or camping. It is very easy to carry and can be inflated manually or with a hand pump. These types of sleeping materials are also one of the most durable and the easiest to buy from various stores out there. They are also simple to inflate for most people. Here are their pros and cons:
Pros

Cons

·         Lightweight for backpacking and solo trekking

·         Very comfortable to rest upon

·         The air valve lets you customize the thickness or firmness of the sleeping material

·         There are models for summer use and for 4-season use

·         If they get punctured, they're easier to repair

·         They can get punctured if you don't take care of them properly

·         If you go for the lightest model, it can be pricier

·         If you inflate it with your breath, it can have mold or freezing during the winter or cold months
The self-inflating pad is the newer type of sleeping material that is intended for really tough situations in which time is an important aspect. For instance, if you have children with you while camping then it's best to buy this kind of sleeping material for camping or backpacking to save you time and effort. Self-inflating sleeping materials are great for camping in the car and for not-too-far camping grounds. Here are their pros and cons:
Pros

Cons

·         They offer a good amount of insulation during the winter or cold seasons

·         They're highly durable with their fabric material

·         They won't suffer from losing air in the middle of the night

·         There's no need to inflate them manually

·         They can be heavier than regular sleeping inflatable materials

·         They tend to be pricier than regular inflatable sleepers

·         They aren't good for ultralight backpacking

·         Repairing them on the fly can be difficult
The closed cell foam pad is another type of sleeping material for camping and backpacking. They are great for those who need absolute durability and don't need to be inflated at all. The distinctive quality of these closed cell foam materials is that they have a Z formation that makes them better in adhering to the comfort for your back. If you often like to sleep on a firm mattress then this is the better sleeper in camp for you.
Pros

Cons

·         They don't cost much when it comes down to the pricing

·         They can also be used as sit pads when you're out in the wilderness

·         They don't need to be inflated

·         They won't suffer from any punctures at all

·         They don't weigh a lot

·         Insulation is awesome with this foam material

·         Packing up is easy by just rolling it up

·         They can be bulky when you sleep at night, even if they don't weigh a lot when you travel with them

·         They're not good for those who aren't used to firm and stiff sleepers

·         They're not as comfortable as inflatable ones
Q: What is the "R-value" and why does it matter when choosing sleeping materials for backpacking?
A: The R-value is the definitive guideline as to whether a sleeping material for camping or backpacking is well insulated enough or not. The scale of R-values is from 1 to 10, and is described as follows:
| | |
| --- | --- |
| R-value | Meaning |
| 1.0 | Not so insulated |
| 3.2 | Fairly insulated |
| 6.0 | Greatly insulated |
| 9.5 | Nearly the best in insulation |
Choosing a sleeping material for your camping or backpacking trip involves having to look at the R-value to make sure that it is well suited for the intended weather it will be used on. For instance, in the summer, you can just stick to lower R-values but for the winter, for mountain climbing and for anywhere that involves cold weather, you need a good amount of insulation, and thus, a higher R-value.
Q: What size of sleeping material should I pick?
A: That depends on various factors, such as your height and how much room for sleeping you need. Wider sleeping materials are great for those who toss and turn at night. Here are some guidelines as to which size of sleeping material you should pick.
Length: this refers to how long the sleeping material extends from top to bottom.
| | | |
| --- | --- | --- |
| Classification | Length | Great for |
| Regular | 72 inches | All seasons of the year |
| Long | 78 inches | Mostly for winter |
| Short (3/4) | 47 to 48 inches | Mostly for the summer |
Width: this refers to how wide the sleeping material extends from side to side.
| | |
| --- | --- |
| Width | Great for |
| 20 inches | Standard users |
| 25 to 30 inches | Those who move around a lot, or for larger people |
Q: Which should I use for my sleeping material: a sleeping bag or a sleeping quilt?
A: There has been some debate as to whether a bag or a quilt would be better to go with your sleeping material. Here's a comparison of both of them:
Bags are great for the winter because of the coverage. They are great for back sleepers.
Quilts are good for the summer and for those who toss and turn when they sleep. They are also great for side sleepers.
Q: Can sleeping materials for backpacking give you insulation?
A: Yes, most backpacking sleepers can give you a decent amount of insulation, contrary to popular belief. They have been made with special materials that render them useful for the fall and winter hikes and camps, so you can feel less chilly. Heat retention is a good thing to consider for choosing a sleeping material that will adhere to your needs of keeping warm and comfortable during the winter – sleeping bags and quilts alone don't give insulation.
Q: What definitive features make a sleeping material a cut above the rest?
A: if you want a quality sleeping material for backpacking or camping, you need to know about these definitive features:
What's the price of the material? Having an expensive backpacking sleeping material might take a toll on your budget, but if it meets your criteria, such as being ultralight, durable and easy to setup, then it might be worth the investment. Do note that ultralight sleeping gear are always and usually more expensive than traditional sleeping gear.
How durable is it? Consider if the sleeping gear is strong against bad weather and against punctures. If you keep pets or have children around, or if you need to set up camp on rocky terrain, it might be best to go for a closed cell foam one instead of inflatable ones to avoid the hassle of punctures altogether.
Is it bulky to sleep on or carry? If you pack ultralight then this can be an issue. If you consider an ultralight sleeping gear, it should be easy to carry and not a bulky thing to carry to the campsite or wherever you might want to sleep on. Additionally, while closed cell foams are lightweight, they can feel bulky to sleep on and uncomfortable for some people.
What's the comfort level of the material? Most people go for the air inflatable because of its good comfort level, but if you want the best comfort then you should go for the self-inflating one. However, you may be sacrificing weight because they tend to be heavier than air powered ones. Closed cell foam ones, however, are lighter but less comfortable.
Do you keep pets around? Sometimes, pets can cause punctures to your inflatable sleeping material, so it's best to consider if you do keep pets and what's the ideal sleeping gear for you and your pet.
Where will you sleep? It also pays to know if you're sleeping on flat land or on a rocky terrain, in which you might need a thicker sleeping material so that you won't feel uncomfortable when the night comes. Again, take into consideration the weight of the sleeping material in coordination to where you will rest for the end of the day.
When will you use the sleeping material? Is it properly insulated? There are sleeping materials that are only rated for sunny weather, whereas there are ones that are also capable of shielding you from the cold, blistering winter weather, such as those with higher R-values in the product packaging. Sleeping gear that are ideal for the cold are good at heat retention.
Q: When you go for a backpacking or camping trip, aside from your sleeping material and bag or quilt, what else do you need to stay comfortable?
A: There are other extra essentials that you might want to bring along with you if you want to sleep outdoors, such as the following:
Bring a pillow or two. This will make you feel more comfortable when the night comes, and especially if the sleeping material you have isn't very thick to comfort you from the rocky surface.
Grab an eye mask. This makes you feel better, especially if you are immune to blinding lights that might wake you up in the middle of the night. Some people simply sleep better with eye masks.
Bring a pair of ear plugs. Unless you're better off relaxing with the sounds of nature, there are some people who just can't sleep even with minimal background noise.
Bug sprays are good things to bring with you. Especially in the summer, it's good to have bug sprays or at least bug repellent lotions to keep you protected against bugs and mosquito diseases.
Use a warm water bottle if the cold bothers you. This can be helpful if it's the winter season, end of fall or the beginning of spring. You can tuck a warm water bottle with you in bed.
Knit hats are also great for the winter. Instead of depending on a sleeping bag with a hood, you can use knit hats as an alternative head warmer when the cold weather arrives.
If it's really cold, you can bring alcohol to drink. One of the few tips and tricks that grown-ups do on any camping or backpacking trip is that they use alcohol to heat up before sleeping.
Getting into light physical activities before sleeping can also help shake the cold away. You can actually make yourself less colder if you go for some stretching or any mild physical activity before going to bed. Just don't overdo it so that you won't get into trouble when sleeping, or get the feeling that you won't be able to sleep properly.
Q: What is the importance of adding a pillow on your sleeping material?
A: There are many benefits to using a pillow when you sleep on your backpacking material, such as the following:
It helps keep you comfortable. Pillows are important and shouldn't be sacrificed for ultralight packing. Adding a pillow helps you to rest properly, especially if you've been tired after a long day of backpacking or trekking for miles, especially on violent weather and on steeper terrain.
It helps add insulation at night. Most pillows can add warmth if you use them for your camping or backpacking spree. If they are made of the right material, they can provide you with  cozy sleeping experience while outdoors or in your tent.
It's great for those with sleeping conditions. Some people have sleep apnea and they need to sleep with a pillow wherever they go. Having the right pillow can make it easier for you to breathe properly when you sleep at night so you will less likely have a hard time waking up and losing your breath.
It's helpful for those who keep having nightmares at night. Nightmares can be caused by discomfort and lack of oxygen in the brain, which can be the effect of not sleeping on a pillow. This is why most people make it a habit to bring pillows wherever they go to feel comfortable and have pleasant dreams. A terrible dream can put you off when starting the day.
It's great for those with nose and respiratory problems. If you have sinus problems, allergies or a cold, you can alleviate your stuffed nose with the help of the right pillow position. By sleeping on your side on a pillow, you can alleviate your clogged nose and feel relieved when sleeping.
Q: Which sleeping material is best for ultralight packing?
A: If you prefer ultralight packing, you might consider a different sized sleeping material. Go for a 3/4 length material instead of a full length one. This is because ultralight packing requires you to carry only a small amount of weight. If your feet can't rest properly then there is a quick fix – you can stock up some used clothes at the bottom of your feet to stay warm.
Q: Which is better: a thicker or a thinner sleeping material?
A: The thickness of your sleeping material varies depending on your intended usage. For you to find out what is the best for your needs, here's a comparison of the two:
Use a thick sleeper if you: are camping near your home, carrying is not an issue (e.g. you have a car or van), you're sleeping on very rough or uneven ground, it's really cold outside, you're going car camping or you just don't sleep well enough with a thin sleeper.
Use a thin sleeper if you: are a lightweight or ultralight backpacker, you're hiking or backpacking solo or as a pair, your trail is very far away, the sleeping ground is not an issue, it's probably spring or summer and you basically sleep like a log on any surface whatsoever.
Q: Are there benefits to sleeping on hard surfaces, such as on firm closed cell foam?
A: While most people prefer a soft sleeping material, others generally prefer backpacking with a firmer sleeping material because of the following:
It helps you keep a good posture. Hard surfaces like firm mattresses are great for those with desk jobs in which you sit around all day, in which you may tend to slouch on the table. Having a good posture is easier if you have a firmer sleeping material so you won't tend to curve and slouch.
It's like getting a back massage. If you haven't been to a massage center lately then a hard surface to sleep on is actually some therapeutic way of relieving your back aches. It may be painful at first, like getting a massage for the first time. However, as time passes, you will actually feel more comfortable when you sleep on it.
You get better blood circulation as you sleep. When you sleep on a hard surface, you will get better blood floor because the veins won't be clogged or blocked as compared to when you sink into the surface of a soft sleeping material.
People with spinal alignment issues can benefit from it. Sleeping on anything that is firm or hard can be great for your spinal column, just as it is for your overall posture, which is important for those who are in their 40s.
Closed cell and harder or firmer sleeping materials can be hassle-free. It's so easy to setup, does not get punctured and can be simply rolled away. A firmer sleeping material won't need to be inflated and it can also be used for sitting in some cases.
It accommodates nearly all types of sleepers. Whether you're a side sleeper, a back sleeper, a tummy sleeper or any of the three, you're bound to feel more comfortable with a firmer sleeping material than one that makes you sink when you sleep.
Q: What is the difference between camping and backpacking?
A: Most people believe camping and backpacking to be the same thing, but they're not. Here are the key differences as to how these two activities differ from each other:
| | | |
| --- | --- | --- |
| Criteria | Camping | Backpacking |
| Location | Camping is also known as "car camping" if you have a vehicle that you can access easily. It is situated in most parks and campsites that are suited for camping. | Backpacking involves going into unknown, often dangerous terrain, but with more beautiful sceneries such as rock formations and the like. |
| Security | Camping is more secure because you are closer to civilization. | Backpacking is less secure so you need to stay alert when backpacking. |
| Target audience | Camping is usually done by families or groups who want closer proximity to civilization while still in touch with nature. | Backpacking is usually done by young adults, teens, adults and some seniors who want to enjoy nature and the wild. |
| Tent setup | Tents are usually larger for camping, especially for groups or families. | Backpacking tents are usually lighter and smaller. |
| Weight of cargo | Camping families or groups can bring as much as they want. | Backpacking usually involves ultalight or lightweight packing. |
| Proximity to nature | Camping offers some proximity to nature due to being in a park or campsite. | Backpacking offers the best proximity to nature because you get hands-on experience in the wild. |
| Challenges | Camping offers little to no challenges because you are closer to civilization. | Backpacking offers more challenges from the wild and nature itself. |
Q: What are the activities that you can do in car camping and with backpacking?
A: There are a number of activities you can do in both types of outdoor activities, such as the following:
Car Camping
·         Fishing: you can catch some fish if you're near the sea, lake or a body of water.
·         Swimming: consider going on a swim if you're near bodies of water as well, and if swimming is permitted there.
·         Family games: Frisbee, treasure hunting and the like are some of the most ideal games to play during a camping trip.
Backpacking
·         Walking: the entirety of your backpacking trip involves walking, so it is an activity in itself.
·         Climbing: you can add challenge by rock climbing as well on higher terrain.
·         Food hunting or fishing: if you're near any food source such as oceans, rivers, lakes and forests, you can get yourself some food through fishing or hunting.
Q: What exactly is ultralight backpacking and how do you do it?
A: Ultralight backpacking is a type of modern backpacking in which you only carry a small amount of gear and weight so that you can feel relieved and travel more distances without getting tired too much. Here's how to get started with ultralight backpacking:
1. First, weigh your gear with a weighing scale.
2. If you find gear that can be replaced with a lighter one, do it. Aim for something like 12 to 28 lbs and the lowest you can go can be about 10 lbs.
3. Don't replace all of the gear in one go. Ultralight gear is usually more expensive than regular gear due to their construction.
4. Never forget the durability aspect of your backpacking gear.
5. Consider these criteria when you choose individual gear changes:
·         Backpack: consider one that has around 45 to 55 liters of capacity, and with a minimal weight of 1.5 to 2 lbs.
·         Sleeping bag: consider one that is 1-2 lbs, preferably with no hood. You can always use a knit hat instead. You can alternatively use a quilt instead of a sleeping bag.
·         Shelter: instead of tents, you can choose to carry a bivy sack (1-2 lbs), an unused tarpaulin or a hammock that's ultralight. If you still insist on using a tent, consider 1 to 2 lbs and go for one with mesh screens.
·         Sleeping pad: your sleeping material should be ultralight – consider air pads compared to self-inflating ones. Alternatively, closed cell foam ones are also great, but they may not be comfortable for other people.
·         Water: at least 1 liter of water supply is a good choice, unless you're in very hot climate such as in a desert. Carrying a water filter that you can use along the way can also help save luggage weight.
·         Cooking stove: you can choose from alcohol, tablet and canister stoves, which are all pretty portable to carry.
·         Food prep: consider instant meals and drinks – go for snack bars if possible. The goal is to get at least 3,000 to 4,000 calories a day of meal in your backpack. You can increase this if you plan to trek on longer trails or higher elevations.
·         Safety and utilities: headlamps are better choices than flashlights because they eliminate your hands from the work. Never forget the staples like navigation tools, whistle, ultralight jacket or rain gear, sun protection, ultralight shoes, hygiene kit, trekking poles (for elevated areas) and some extra items like binoculars or a travel journal.
Q: What are some of the most common misconceptions about ultralight backpacking?
A: Most people think that ultralight backpacking has many disadvantages and make common stereotypical misconceptions, such as the following:
"It's no fun because you can't bring luxury items" – anyone can actually bring whatever they like, provided that they keep it to a minimum, depending on the contents of their bag.
"Ultralight packing can be dangerous" – it's not if you bring the safety staples in your bag, albeit a lighter version of them.
"You sacrifice comfort" – you actually get more comfort when you pack ultralight because you lose some extra pounds from your backpack on the way.
"It's an expensive hobby" – not always true, since the only thing that you'll find expensive is ultralight gear such as shoes, sleeping bags, tents and the like. Otherwise, you can simply DIY pack some stuff at home or buy smaller portions of your item from the store instead.
Q: If I am new to backpacking, what should I consider first?
A: If you are new to backpacking and don't know where to begin, here's a list of things you should do first:
1. Get a partner who is knowledgeable with backpacking.
2. Go to a route that's easy for you to manage.
3. Choose the appropriate gear.
4. Prepare yourself for a long day – physically, mentally and emotionally.
Q: What are the benefits of sleeping outdoors?
A: If you sleep outdoors, many good things are bound to happen for you, such as the following:
It regulates melatonin, which helps you sleep more regularly. This also helps your blood sugar levels, blood pressure and temperature to stay put.
Natural sunlight is good for your health, especially in the morning. It enhances your circadian rhythm, which helps your body clock to be in good sync.
You become stronger against diseases and illnesses. Sleeping outdoors help your immune system get a boost due to the phytoncides present in plants.
Fresh air is good for your health. It improves the circulation of your oxygen levels to help with body and brain performance.
It's a breather from your A/C system. Using air conditioning all the time can be bad for your health, so it pays to get some fresh air outside. CO2 fills the air a lot more in air conditioned rooms than outdoors and this can make you feel sleepy.
Sleeping alongside nature takes anxiety and stress off your back. It's good to relieve yourself of all the bad stuff in your usual routine by relaxing in nature.
Getting in touch with nature brings you peace and comfort. If you need to disconnect from the real world for a while, sleeping outdoors is a good way of doing so.
Q: What are the benefits of backpacking?
A: There are many reasons as to why people go on a backpacking trip, such as the following:
·         Backpacking can be done at your own pace. You set your own schedule, especially if you pack solo.
·         It's an alternative (and healthier) exercise than going to the gym all the time.
·         There's nothing like the feeling of exploring the wonders of nature.
·         It boosts your mood and energy levels.
·         You get to meet new people along the way.
Q: How is trekking helpful for people?
A: If you go on trekking while you're backpacking or on a vacation, you can get the following benefits:
·         It burns up to 600 calories per hour.
·         It's good for your heart and your cardiovascular system.
·         You're bound to shake the stress away.
·         You become more acquainted with different cultures.
·         Some things you do at work can also be practiced in the wild. For instance, management skills are also an important part of planning a successful trekking experience.
·         You're more likely to eat healthier foods instead.
·         It's a good experience being up close and personal with wild animals and plants.
Q: How do I sleep better if I want to rest from the trail?
A: If you are new to backpacking and don't know how to get a better night's sleep while on the trail, here are some tips:
·         Consider the right sleeping gear.
·         Set your tent in the right area depending on the weather and ground.
·         Relieving yourself before bedtime is important.
·         The sounds of nature can actually make you fall asleep – unless you're one of those people who only sleep in total silence, and in which you will need earplugs instead.
·         Go to bed and wake up as early as you can. You can get more things done when you rise early.
·         Adjust your current gear depending on your trip or trail conditions.
·         Having a sleeping routine is important for keeping up with your backpacking course.
Wrapping It Up
To wrap it up, the OutdoorsmanLab Ultralight is our pick for the best sleeping pad due to the quality 20D construction, 14.5-ounce weight that's perfect for UL packing and comfortable design.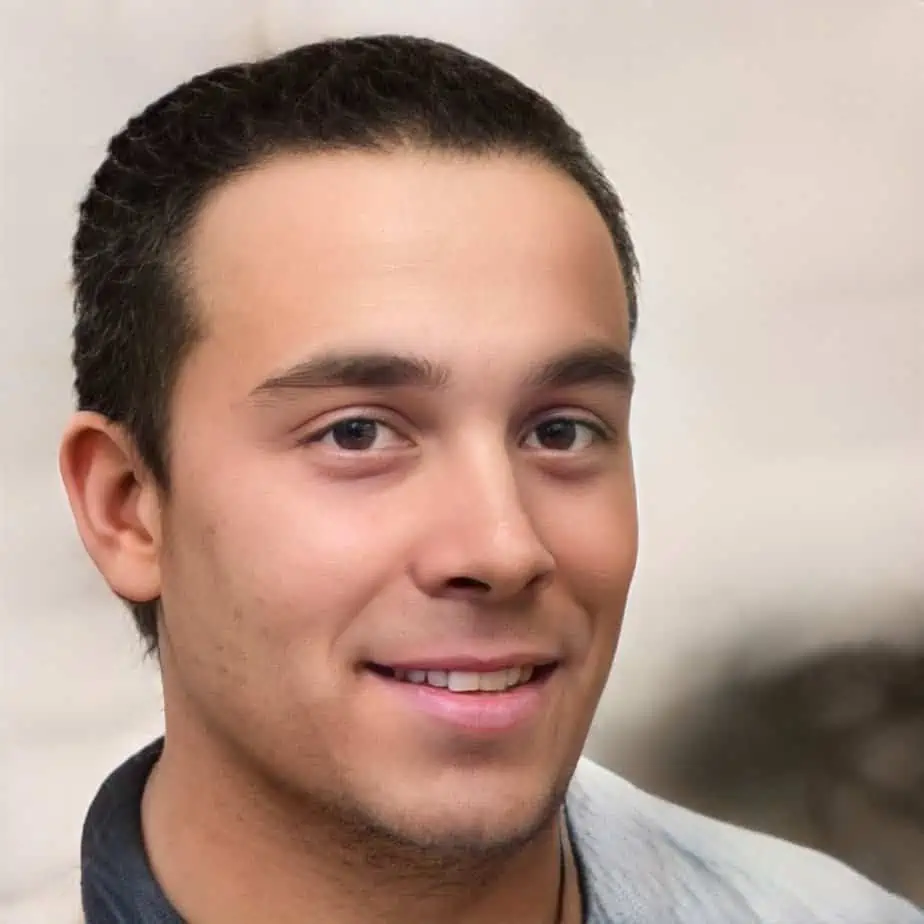 Jacky has a degree in Sports Science and is a Certified Sports and Conditioning Coach. He has also worked with clients around the world as a personal trainer.
He has been fortunate enough to work with a wide range of people from very different ends of the fitness spectrum. Through promoting positive health changes with diet and exercise, he has helped patients recover from aging-related and other otherwise debilitating diseases.
He spends most of his time these days writing fitness-related content of some form or another. He still likes to work with people on a one-to-one basis – he just doesn't get up at 5am to see clients anymore.