If there's a game that perfectly encapsulates the phrase, 'Beauty and Brains,' it's tennis. Well, here, rather than brains, we're talking about talent. There's an almost bottomless list of tennis players, especially from a worldwide perspective. But, a few select are gorgeous/handsome, fit, and talented.
You have probably seen some of them during the WTA and ATP Tour, and you were left wondering what their training routine looks like. The truth is that while most are naturally attractive and fit, all the players put up quite a lot of work, especially in cardio and strength fitness exercises.
So who are the top hottest tennis players in the world at the moment? Take a look!
1. Nicole Gibbs

Nicole Gibbs by Carine06/ Creative Commons Attribution-Share Alike 2.0
The American hottie was born on March 3, 1993, and since her early days at Crossroads School, Santa Monica, CA, she was an incredible tennis revelation. But it is at Standford University that her star first shone brightest. She was a regular feature in the college double and singles side and was so talented that she is a one-time winner of the coveted Honda Sports Award. This title is given to the top female collegiate athlete in a particular sport in the US.
I admire Nicole Gibbs because, despite her tender age, she won 12 ITF Circuit titles (7 singles and five doubles.) Her best singles rank as a professional was world No. 68. On 25 July 2016, and the same year, she made her best rank in WTA doubles rankings at position 107.
Last year, she announced her retirement from the sport to pursue a law degree- quite an early retirement, but I bet she wanted a career in public service, as she alluded to in her retirement statement.
2. Sania Mirza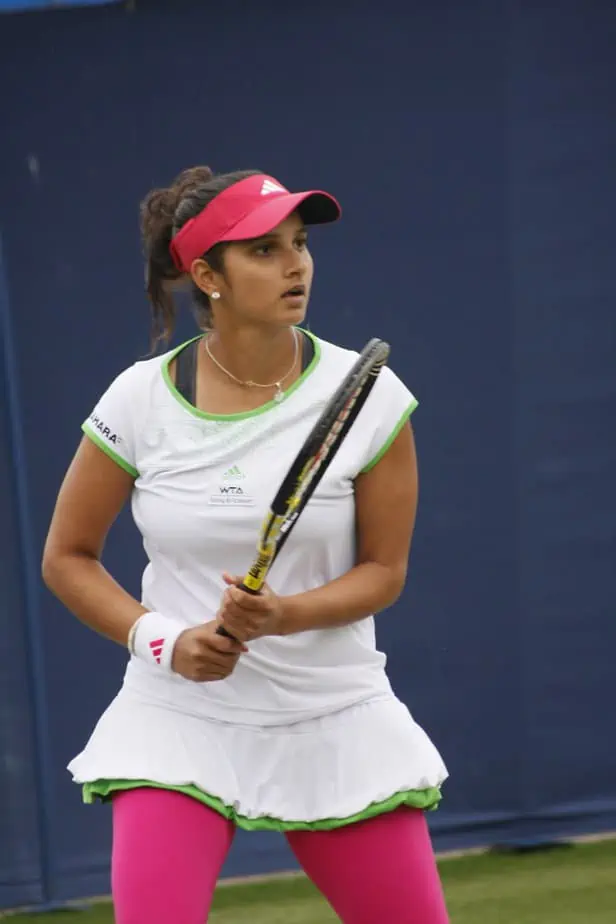 "Sania Mirza" by Andrew Campbell Photography / CC BY 2.0.
I was surprised that Sania was a former doubles world number one. Not that I doubt her capabilities, but this is no mean feat, especially considering that she's from India, where tennis is not as popular as cricket.
The Indian beauty won 6 main titles- 3 mixed doubles and three doubles. She retired in 2013 from singles, and at the time of retirement, she was ranked as the top Indian woman athlete in WTA singles.
3. Alizé Cornet

"ALIZE CORNET" by NAPARAZZI /CC BY-SA 2.0.
The right-handed french born tennis player was once a WTA singles' ranking number 11 in 2009, and she's also one of the most decorated French Tennis players. Alize won 9 titles on the WTA tour- 6 singles, three doubles, and 6 ITF Circuit titles- 3 singles and three doubles.
What is particularly remarkable about this player, who started playing tennis at age four, is beating world No. 1, Serena Williams, three times in 2014.
4. Elina Svitolina

Elina Svitolina by Tatiana/ Creative Commons Attribution-Share Alike 2.0
She was born in Ukraine, where she currently lives but often trains abroad. The singles ace has cut a name for herself on WTA Tour, where she won 16 titles. She is so good in singles that she was ranked 3rd in WTA rankings, her highest ever.
This is no mean feat for a player born in a war-ravaged country.
5. Sabine Lisicki

"Sabine Lisicki" by Christian Mesiano is licensed under CC BY-SA 2.0.
Sabine has a very supportive father (with a Ph.D. in sports science) who has been instrumental in her entry into tennis and to a significant extent her success in the game. She started to play tennis at age 7 but turned pro in 2006. Since then, the German-born beauty cum tennis racket master has been a regular feature on WTA Tour and won her first title in 2009.
She's not had had much success as other players on this list but a raft of injuries are to blame for that.
6. Alona Bondarenko

"Alona Bondarenko" by Hengist Decius is licensed under CC BY 2.0.
She has an Australian Open doubles title to her name and is often fond of playing together with her sister, a tennis pro. The Ukrainian tennis star, who has since then retired, once ranked at world number 19 in singles in what was her best ever rank.
7. Wang Qiang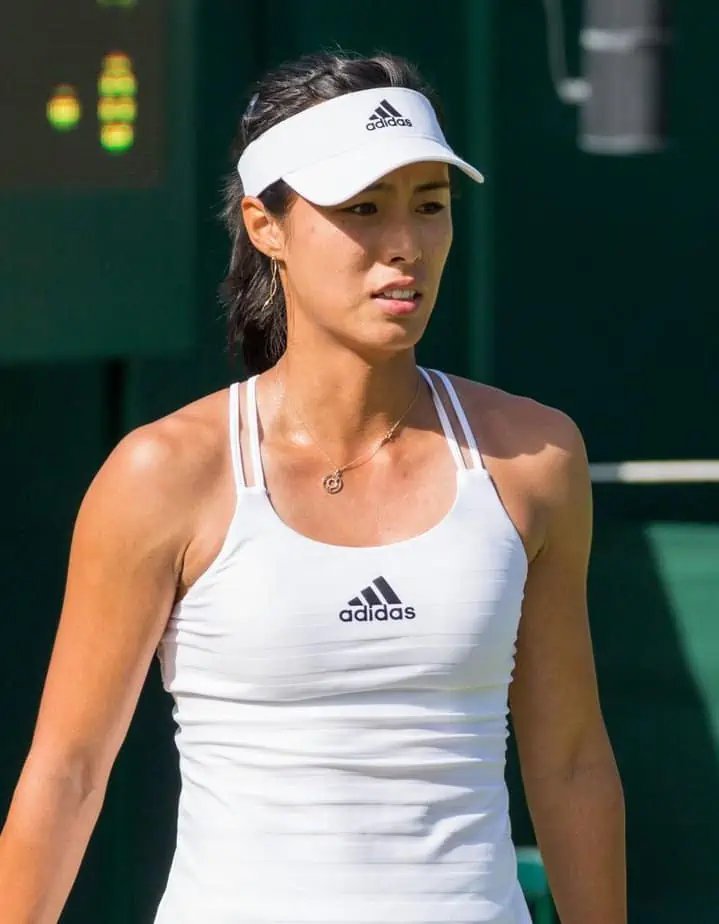 "Wang Qiang " by Diliff / CC BY 3.0.
The Chinese tennis player has made her exploits in the ITF circuit where she's won a double title and 13 singles.
8. Karolina Pliskova

Karolína Plíšková by James Boyes/ Creative Commons Attribution 2.0
The Czech-born star was once a world singles number one on 17th July 2017 but he held this position for only two months. Her best ranking in the doubles is position 11. She is renowned for the robust serve play that has seen her win 21 titles in the World Tour- 5 double and 16 singles.
Ms. Pliskova has also won 16 titles in the ITF circuit, namely, 6 doubles and 10 singles.
9. Cici Bellis

"CiCi Bellis" by Christian Mesiano / CC BY-SA 2.0.
Born Catherine Cartan "CiCi" Bellis, in 2018 the American Tennis Star was ranked as the WTA's second youngest player in the top 100 tier. Much of her exploits were during her early years such as during the 2014 US Open when she managed to win a match against a world top 20 opponent. At this time she was barely 15 years.
In addition to winning a WTA 125 title in the 2016 Hawaii Tennis Open, Cici has also won 9 ITF circuit titles.
10. Andrea Petkovic

Andrea Petkovic By si.robi/ Creative Commons Attribution-Share Alike 2.0
In 2011, the German tennis beauty was ranked 9th in what was her highest ever ranking to date. She is also a celebrated winner having amassed a total of 15 titles in the ITF and WTA.
Ms. Petkovic is also the perfect definition of beauty and brains given that in addition to her unmatched talent, she's fluent in four languages.
11. Laura Robson

"Laura Robson" by mirsasha / CC BY-NC-ND 2.0.
The gorgeous Brit tennis was a revelation at the age of 14 when she clinched the Wimbledon Junior Girls' Championship. In addition, she also claimed three ITF titles although her career was unfortunately cut short by injuries. On another note, engaging in off-season exercises could maybe improve her endurance to injuries.
We're definitely kidding on the above suggestion because I bet she exhausted all the options she had just to remain fit. Otherwise, the left-handed player renowned for her exemplary server and unique forehand return is highly rated in tennis circles.
12. Tamira Paszek

"TAMIRA PASZEK" by NAPARAZZI / CC BY-SA 2.0.
East Europe is renowned for producing world-class tennis stars and Tamira Paszek is arguably one of them. The Austrian started playing tennis at the age of four thanks to her mother who encouraged her to join the game. Among her achievements is winning 6 ITF titles and 3 WTA titles.
13. Donna Vekic

"DONNA VEKIC" by NAPARAZZI / CC BY-SA 2.0.
Ms. Vekic is a Croatian player whose exploits include winning the 2017 Nottingham Open, 2014 Malaysian Open, and six ITF titles. Her top career rank came in 2017 September when she entered the world's top 50 category.
14. Bethanie Mattek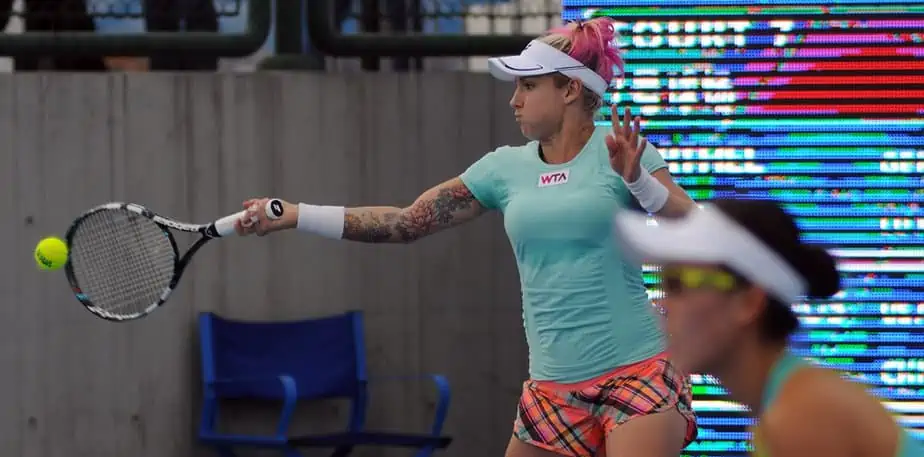 "Bethanie Mattek-Sands " by Kulitat / CC BY-SA 2.0.
The American is a former world number one in doubles and she is also a one-time Olympic gold medallist. In addition, Bethanie who turned pro in 1999 has won a total of 9 Grand Slam titles. She's also one of the most decorated players in doubles with a collection of 27 titles.
Also, hear this' Mattek became world number one in doubles for 32 successive weeks. This is no mean feat.
15. Serena Williams

"Serena Williams" by Doha Stadium Plus / CC BY 2.0.
Arguably, here we're talking of one of the best female players to have ever graced the tennis courts. Renowned for her agility/quickness and enthusiastic performances, she's been WTA singles number one a whopping 8 times. She's also collected 23 Grand Slam singles titles, a record that is the best for any tennis player in the Open Era. Overall, only Margaret Court with 24 edges her.
On top of that, Serena is a beauty queen renowned for her afro hair and lean muscular body.
16. Tsvetana Pironkova

"Tsvetana Pironkova" by Andrew Campbell Photography / CC BY 2.0.
The Fed Cup hasn't witnessed any more successful Bulgarian Tennis player than ms Pironkova. A master of quick hardcourts, the Bulgarian is also renowned for her beauty.
No wonder MSN once ranked her as one of the hottest players to have ever graced the beautiful game of tennis.
17. Sorana Cirstea

"Sorana Cirstea" by Christian Mesiano / CC BY-SA 2.0.
The Romanian tennis humdinger achieved her highest rank in 2013 when she was world number 21. Her biggest feats include reaching the 2009 French Open quarterfinals and the 2013 Rogers Cup.
18. Mandy Minella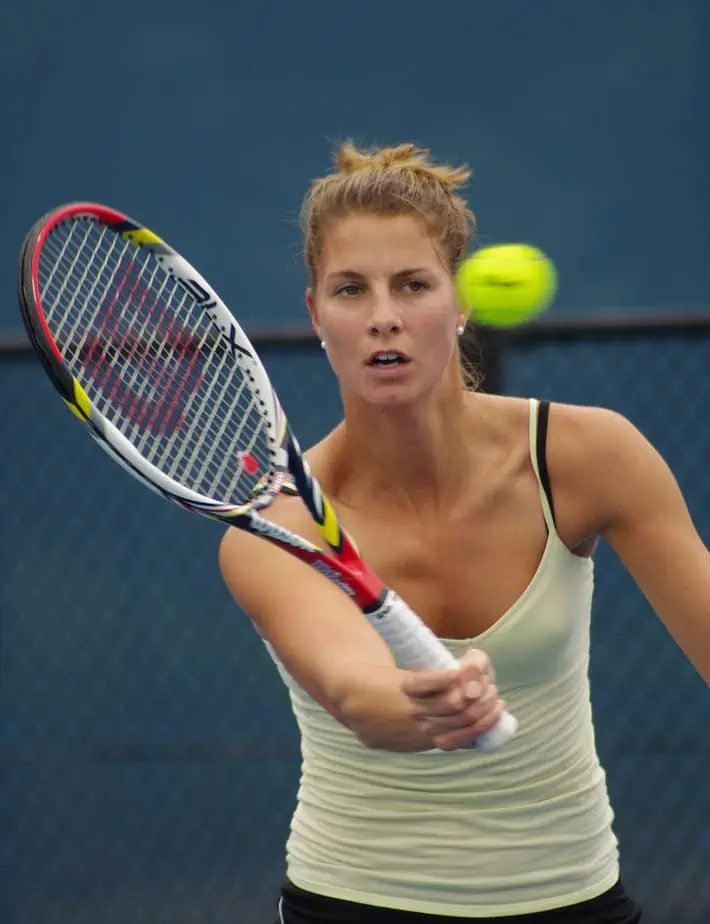 "MANDY MINELLA" by NAPARAZZI / CC BY-SA 2.0.
Let me surprise you first; Mandy Minella hails from Luxembourg. Sounds absurd that such a small country has a tennis star, right? Well, now you know it. In addition, she is a two-time winner of a doubles title on the WTA Tour, and she's also made remarkable exploits at the WTA 125 tournaments.
Since 2014, her career has since been plagued by injuries and poor showings but one thing has remained constant- her gorgeous looks.
19. Katie Boulter

"Katie Boulter" by Carine06 / CC BY-SA 2.0.
The Leicestershire-born British Tennis Player is one of the most decorated athletes in the game. She has particularly had her exploits in the ITF Women's Circuit, where she's won 4 doubles and six singles.
The player's best rank was world No. 82. in the singles rankings and No. 431 in doubles rankings.
20. Sloane Stephens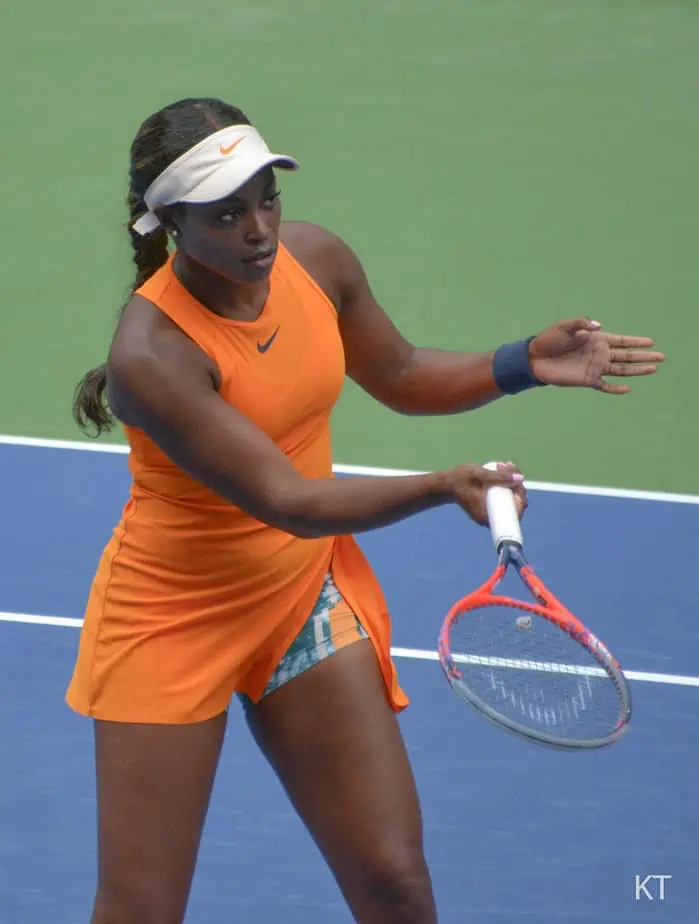 "Sloane Stephens" by Carine06 / CC BY-SA 2.0.
She was born to athlete parents, and without a doubt, that set the foundation for her meteoric rise in the tennis game. The player achieved a Wimbledon ranking of position 3 in what is arguably her best rank. The tennis beauty, who married long-term partner Jozy Altidore (a USMNT player), has amassed 7 WTA singles titles.
21. Aryna Sabalenka
" Aryna Sabalenka " by Keith Allison from Hanover, MD, USA / CC BY-SA 2.0.
The Belarusian Tiger queen is renowned for her aggressive style of play. No wonder she has a Tiger tattoo on her right arm. Not only is she hot, but Aryna has been ranked World doubles number two and singles number one by the WTA. In total, she's won 16 titles and also has two Grand Slam doubles titles.
22. Paula Badosa

Paula Badosa Gibert By Peter Menzel / Creative Commons Attribution-Share Alike 2.0
The lingual connoisseur hails from Spain, and she has won three doubles and two singles in the ITF Women's Circuit.
23. Desirae Krawczyk

"Desirae Krawczyk" by pmenzel86 / CC BY-SA 2.0.
The American professional player is a specialist in doubles whose highest ranking so far in the doubles is position 10. She's also a WTA Tour champion on seven occasions.
Her beauty is also not in doubt and she's a darling among many for her cute looks.
The Hottest Male Tennis Players
We've listed the top hottest tennis players, and so far, our list contains only females. But to be fair to ladies, we'll also include the top hottest male tennis stars as there are a pretty bunch of damn hot men in this sport.
24. Michael Mmoh

"Michael Mmoh" by mirsasha / CC BY-NC-ND 2.0.
The 23-year-old has a bright tennis career ahead of him. But that is not all for the American, as his hot looks have made him a luxury brand sensation.
Thus, this, coupled with his undoubtedly athletic capabilities, makes him one of the future men both in tennis and the fashion scene.
25. Novak Djokovic

"Novak Djokovic" by biljana_ustic / CC BY-NC 2.0.
Any Tennis players list that doesn't include King Djokovic is a sham because the guy got it all together. He's both quick and capable of delivering powerful unstoppable shots, making him one of the best in the trade.
Novak has a total of 88 ATP singles titles, among many other accolades. But not only is the Serbian a darling among women admirers because of his Tennis acumen but also his hot looks.
And, have you seen Novak's muscular body yet?
26. Alexander Zverev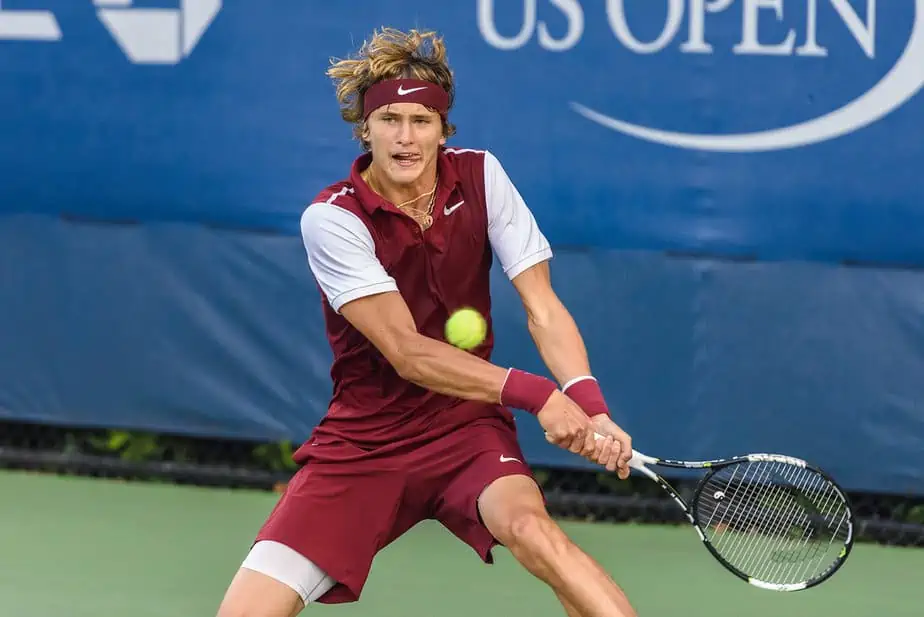 "Alexander Zverev (GER) " by Steven Pisano / CC BY 2.0.
The German hottie is allegedly single after splitting with his lover. Hence, if you are the kind that hunts for hot stars, then here is your kind of man. We're kidding here though; the German is both handsome and talented. Such a heavenly combination!
27. Vasek Pospisil

"Vasek Pospisil" by mirsasha / CC BY-NC-ND 2.0.
The Canadian is a social media sensation, primarily because he's not afraid to showcase his physique to the world.
His topmost ATP ranking is at position 4 in doubles and this is just the tip of the iceberg in regard to the successes the player has achieved so far. We suggest that he joins a fashion show because the guy gotta break necks for sure.
28. Rafael Nadal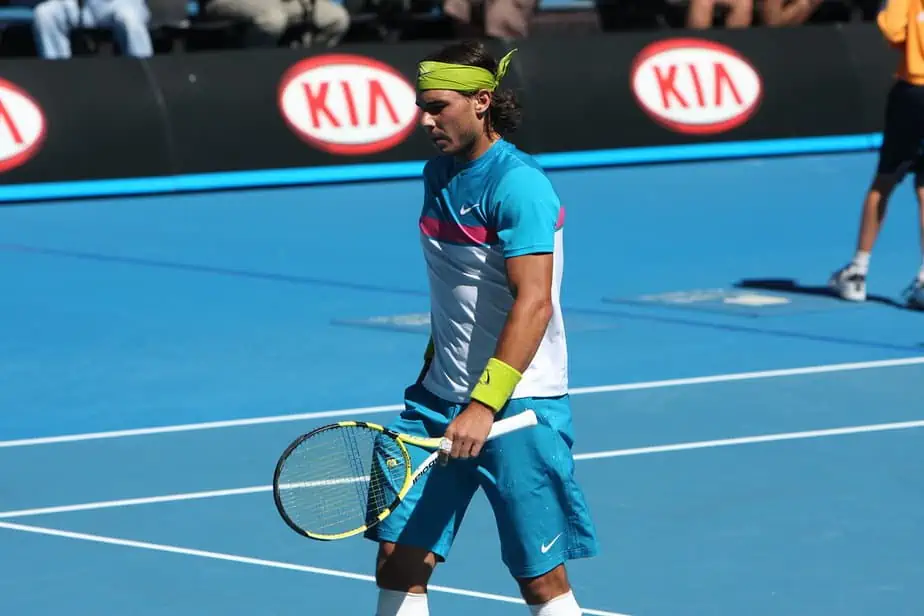 "Rafael Nadal 2009 Melbourne" by Brett Marlow Melbourne Australia / CC BY 2.0.
Composed yet lethal. Those three words best describe a player who doesn't seem to age no matter what life throws at him in terms of years.
At 35, he's still delivering the goods on the tennis court and as for his looks, they keep getting better. He's the perfect embodiment of bettering with age as wine, and his endurance is simply world-class.
29. Matteo Berrettini

https://commons.wikimedia.org/wiki/File:Matteo_Berrettini,_2021.jpg
Italians are hot thanks to their rugged beards and beautiful eyes and who best fits this description than Matteo Berrettini? At 25 years old the Italian Tennis star has already been ranked number six in singles by the ATP.
But if you were not privy to this feat, you definitely must have noted the hot 'smiling machine' who is the future of Italian tennis.
30. Dennis Shapovalov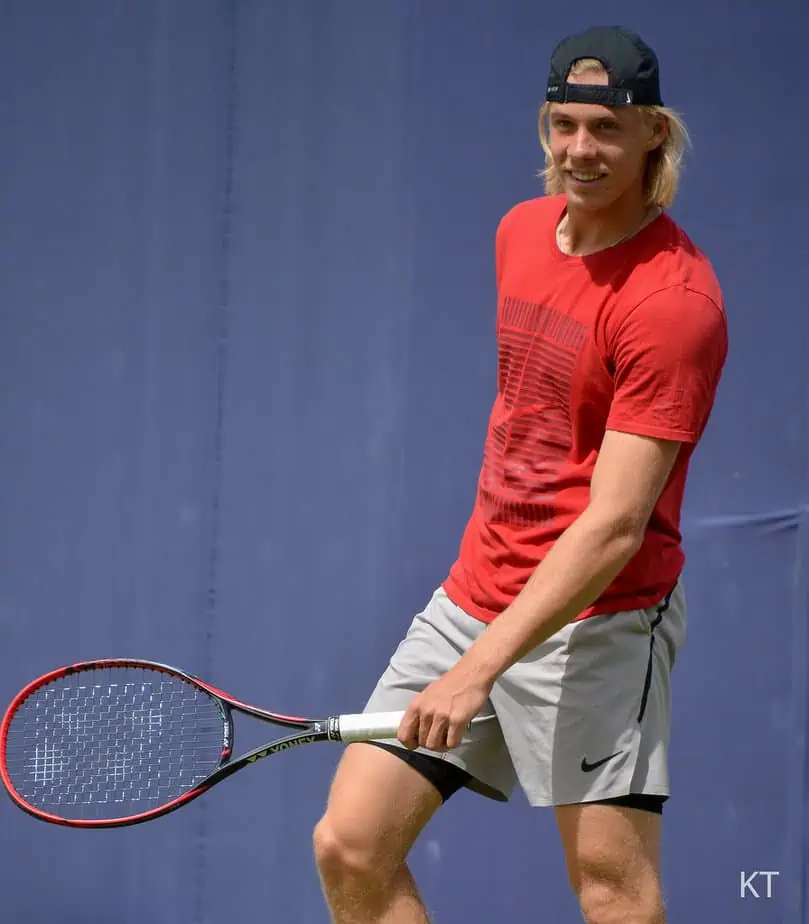 "Denis Shapovalov" by Carine06 / CC BY-SA 2.0.
We're not done with Canadians yet as Dennis Shapovalov is just too cute to overlook. His highest position so far is world number 10 in the singles and he's also a calm-looking young lad with blonde hair.
31. Francis Tiafoe

Francis Tiafoe (USA) by robbiesaurus / https://creativecommons.org/licenses/by-sa/2.0
He was born in 1998 and despite his young age, Tiafoe has already reached a career-high ranking of position 24 in the singles.
The young American is fond of keeping an unkempt beard which definitely makes him quite attractive. Again, his power cum muscular endurance is also adorable especially given that he's not the tallest tennis player you'll come around to.
32. Gregor Dimitrov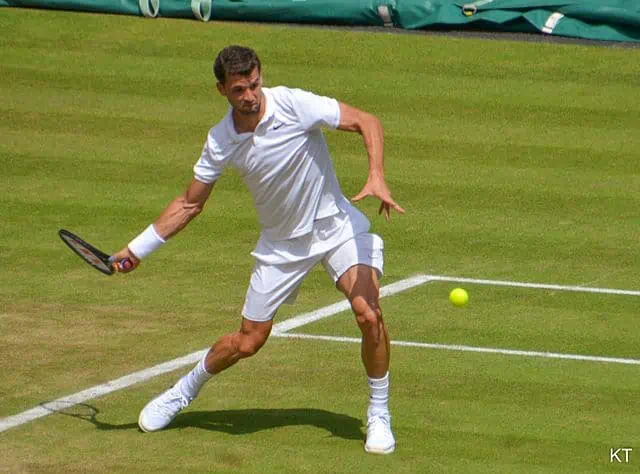 Grigor Dimitrov by Carine06/ Creative Commons Attribution-Share Alike 2.0
When it comes to height, Gregor leads the pack. But this ain't the only outstanding physical feature of the Bulgarian that makes him attractive. His highest rank so far is 3rd in the ATP rankings and to add butter to the bread, the guy is pretty rich- $20 million.
Definitely, the combination of those factors makes him one of the most revered players in the game at the moment.
33. Fabio Fognini

"Fabio Fognini" by mirsasha / CC BY-NC-ND 2.0.
Italians never cease to amaze especially when we're speaking about looks, because Mr. Fognini got it all. A smiling machine with a lot of flairs is what best describes the player.
Although he's often renowned for losing his head at times, to be fair with the guy, he's a brilliant personality. And who cares too much anyway about anger lapses when the guy is as hot as he is!
34. Feliciano Lopez

"Feliciano Lopez" by Carine06 / CC BY-SA 2.0.
Feliciano Lopez ranks as one of the top Spanish players, and he also got looks and great charisma. He's so liked in Spain that even if he has a bad game, the Spanish media has a way of circumventing it. And, even if you haven't seen him, that treatment tells the man he is.
And the media should be forgiven simply because- Who would want to irk a handsome chap like Mr. Lopez?
35. John Isner

"JOHN ISNER" by NAPARAZZI / CC BY-SA 2.0.
Let us begin with the spoiler- John Isner is married. And that means there is no chance of getting him if you're looking for a world-class tennis star who's got all. Mention them- sex appeal, gorgeous looks, and even smiling, this player is simply sensational. And the icing on the cake is that he has a career-best ranking of position 8 in the world.
36. Andreas Seppi

https://www.flickr.com/photos/43555660@N00/9446115921
Guess where he's from. If you said Italy, you're right. Well, while his major feats have been on clay courts, I doubt female admirers give a damn about that anyway because his hot looks overrule it all.
37. Stefanos Tsitsipas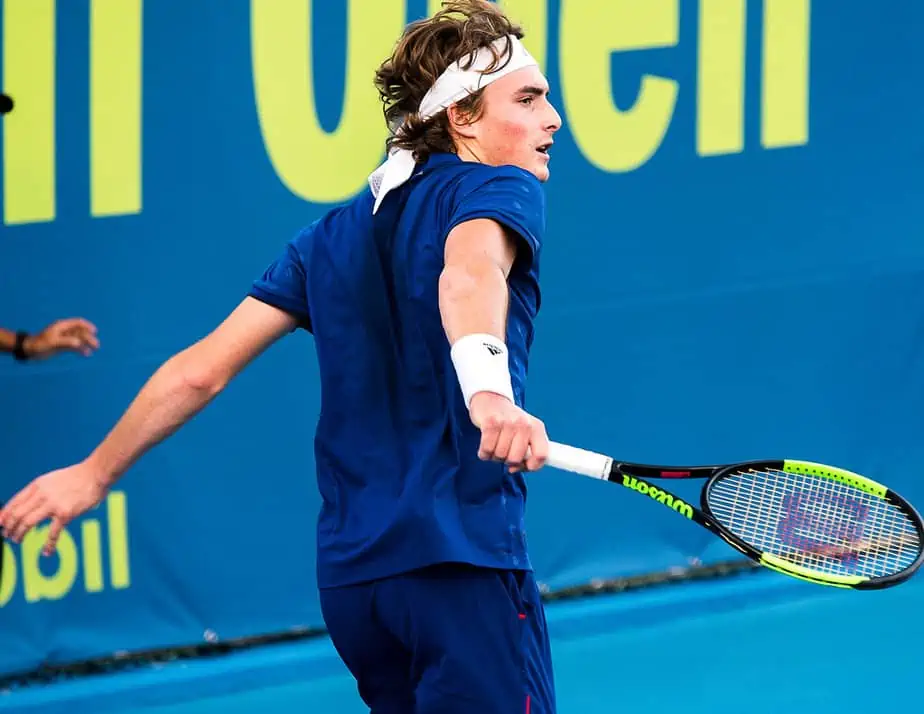 "Stefanos Tsitsipas" by alcampo_49 / CC BY-NC 2.0.
Did you know that Cleopatra was actually Greek? What I'm alluding to here is that Greece is an epitome of beauty, no wonder Stefanos Tsitsipas ranks among the top hottest players to have ever played the game.
He's not only handsome but also remarkably emotional, and these traits will definitely auger well with a considerable number of women admirers, if not all.
38. Fernando Verdasco

Fernando Verdasco by Carine06 / Creative Commons Attribution-Share Alike 2.0
Thirty-seven years old and the guy looks like some of the best Michaelangelo best sculptures for he is definitely beautiful. Also, you can regard Fernando as a top athlete and his longevity in the game is a marvel to behold.
Besides, he's got a diminutive height and also sports a muscular tanned body that's a darling to many ladies.
And he looks every part like the gentleman you've been looking for!
39. Dominic Thiem

"Dominic Thiem" by Carine06 / CC BY-SA 2.0.
If you're really into beautiful eyes, then you can't help but like Dominic Thiem. The Austrian has numerous accolades to his name, including winning a Grand Slam singles title as the first 1990-born player. And on top of that, he's a calm guy who's definitely one of the stars of the future despite his present humongous achievements.
You also cannot separate the elegant Austrian from admirers because he's got many of them, and guess who a bulk of them are- female.
40. Felix Auger Aliassime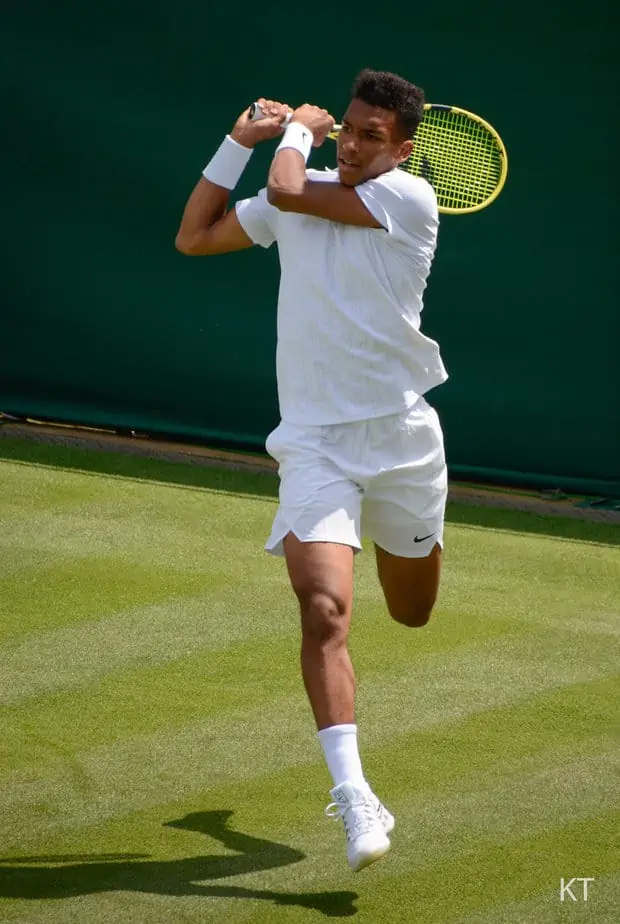 "Felix Auger-Aliassime" by Carine06 / CC BY-SA 2.0.
The guy is no movie star, but he looks every part like one because he's just way annoyingly cool. And he is also way too young than most of the players who've made the cut in this listing, given that the guy is currently 22.
But, we're not just after looks alone because there's no doubt about the Canadian's achievements on the tennis court. Hear this- He's the second youngest to enter the ATP top 20 rankings.
He's simply an absolute baller!
41. Nikoloz Basilashvili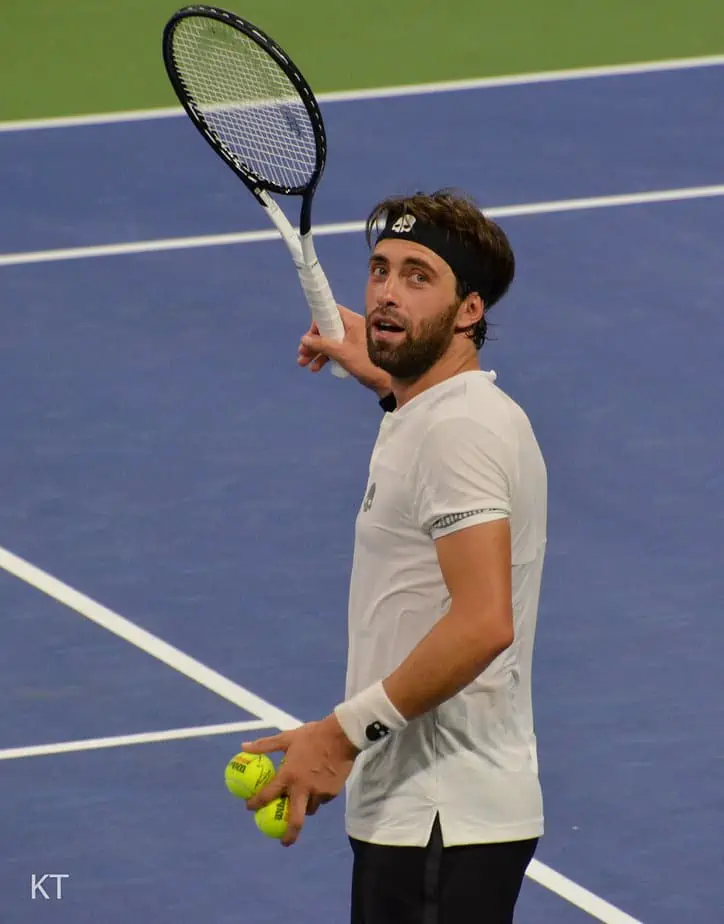 "Nikoloz Basilashvili" by Carine06 / CC BY-SA 2.0.
Nikoloz is a Georgian player who is just not hot, he's also an achiever. The elegant gentleman's highest rank ever was ATP world number 18, and he's renowned for sporting designer attire. He deserves it definitely because Nikoloz is quite hot.
42. Pablo Carreño Busta

"Pablo Carreño Busta" by mirsasha / CC BY-NC-ND 2.0.
In 2017, the ATP ranked him 10th in the world, and in terms of looks and physique, we also really rate him quite highly. The Spaniard has six singles titles to his name and four others in the doubles, making him one of the best Tennis stars in his country.
43. Tommy Paul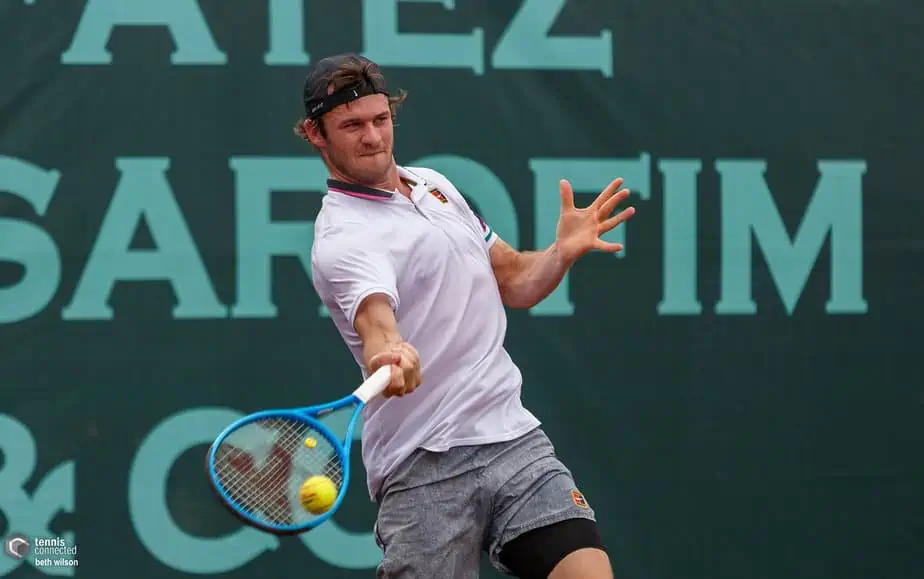 "Tommy Paul" by mirsasha / CC BY-NC-ND 2.0.
Tommy is aged 25, and his best singles rank is number 31. But the American is also cute, and although he has only one ATP title to his name, more is definitely on the way.
44. Diego Sebastián Schwartzman

"Diego Sebastian Schwartzman" by Carine06 / CC BY-SA 2.0.
The only Argentine on this list, Schwartzman is no pushover in the game as he's won four ATP singles titles. Also, in October 2020, he achieved her highest ATP rank in singles at number 8. So what makes Shwartzman outstanding- first, it is his looks, and two, he's also renowned for his high-quality return game.
Conclusion
We've tried our best to list the topmost attractive tennis professionals and as you can see from their looks, they are outstanding. So if you're a tennis connoisseur make a note of observing these players, and their prowess'll also wow you.
Of course, some are on the horizon of their careers, while others are budding athletes who will grace tennis courts for the next decade. Enjoy them all while they last!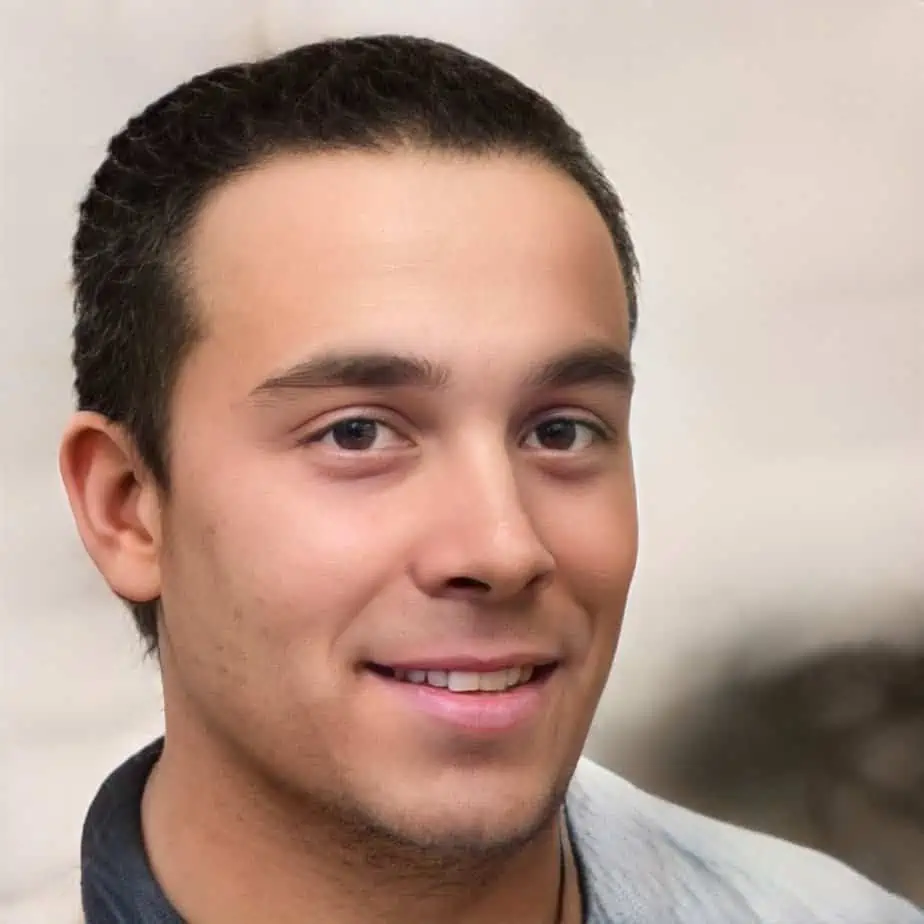 Jacky has a degree in Sports Science and is a Certified Sports and Conditioning Coach. He has also worked with clients around the world as a personal trainer.
He has been fortunate enough to work with a wide range of people from very different ends of the fitness spectrum. Through promoting positive health changes with diet and exercise, he has helped patients recover from aging-related and other otherwise debilitating diseases.
He spends most of his time these days writing fitness-related content of some form or another. He still likes to work with people on a one-to-one basis – he just doesn't get up at 5am to see clients anymore.